Christopher Alaniz Benavides, Jr. (Mr. B)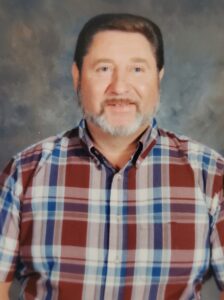 Christopher Alaniz Benavides, Jr. (Mr. B)
A teacher to hundreds, a mentor to many, and a friend to all, Chris Benavides was called home on December 30, 2021 with his loving wife by his side.  He was 76 years old.
He was born August 27, 1945 in Corpus Christi, Texas to the late Christopher A. Benavides, Sr and Olivia Alaniz Benavides.  He was a long-time resident of Kenedy, Texas where he was an educator, coach, loved the outdoors and spending time with his family and his wife, Irma Benavides, who he married on August 19, 1967.  They were blessed with 54 years of marriage.  He is remembered for his sense of humor, fast cars, antique trucks and great story telling abilities.  Chris was a devoted Dallas Cowboys and University of Texas Longhorns fan.  He was a loyal Kenedy Lion, Spanish teacher and tennis coach.
Educated at W.B. Ray High school in Corpus Christi, Texas, he received his bachelor's degree at Southwest Texas State University (Texas State University) and his master's degree from Texas A & I University in Kingsville (Texas A&M Kingsville).  Chris was an educator and tennis coach at Kenedy High School for 35 years.  He taught college courses at Bee County College (Coastal Bend College) and worked for the JTPA program.
Chris was a devout member of Our Lady Queen of Peace Catholic Church in Kenedy, Texas where he served as a communion minister and lector.
His memory will be cherished and kept alive by his wife and family.  Daughters – Melissa Ann Benavides (D. Diaz) of Richmond, Texas, Karissa Lynn Benavides (Bobby Quintanilla) of Karnes City, Texas and Kristie Marie Benavides (Ray Reyna) of San Antonio, Texas.  Grandchildren – Gage Reyna and Leylah Reyna of San Antonio, Texas.
Public visitation will be held on Friday, January 7, 2022 at Our Lady Queen of Peace at 10am followed by the Holy Rosary and Holy Mass at 11am.  Masks will be required at the services.