Oralia M. Gonzales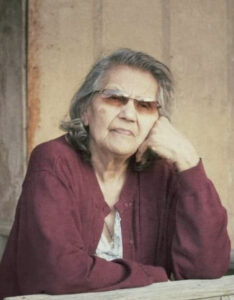 Oralia M. Gonzales, Age 82, of Pawnee, Texas was born on May 26, 1938 in Bee County, TX to Gregorio Martinez and Maria Campos Martinez passed away on Saturday, November 14, 2020 in Karnes City, TX at the age of 82 . Oralia is preceded in death by her husband Lorenzo Gonzales, Jr; daughter Clara Duenes; and sons, Leonires Gonzales, Juan Leonel Gonzales and numerous sisters and brothers. She is survived by her children, Mary Ann Gutierrrez, of Kenedy, TX, Lorenzo (Lupe Ramirez) Gonzales III of Beeville, TX, Flora (Ignacio Jr.) Rodriguez of McAllen, TX, Lydia (Raul Duenez) Gonzales, of Austin, TX, Rebecca (Ramiro) G. Tapia, of Pawnee, TX, Sara Gonzales of San Antonio, TX, Sylvia Gonzales, of San Antonio, Luis (Amy Nunez) Gonzales, of Pawnee, TX, Leonel (Maggie) Gonzales, of Kenedy, TX; 21 grandchildren; 16 Great Grandchildren; sister, Adela Gonzales of Three Rivers, TX; brothers, Vense (Adelma) Martinez of El Campo, TX and Adolph Martinez of Bryan, TX; numerous nieces, nephews and other relatives.
A Holy Rosary will be recited Tuesday, November 17, 2020 at 7PM in the Eckols Chapel. Funeral Mass will be celebrated Wednesday, November 18, 2020 at 10AM at Our Lady Queen of Peace Catholic Church with the Rev. Norbert Hermann officiating. Interment will follow at the Nell Cemetery in Nell, TX.
Pallbearers: Jordan Taylor, Corey Matthew Gonzales, Matthew Rodriguez, Michael Ryan Rodriguez, Moses Gonzales, Jacob Gonzales, Robby Gutierrez and Jacob Mills.
Honorary Pallbearers: Randy Gutierrez and Romey Tapia.