Joe D. Molina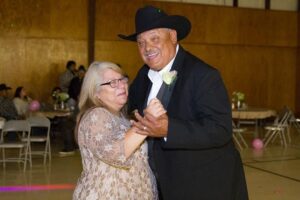 Joe (Jose) D. Molina, Age 68 of Karnes City, TX passed away on October 29, 2020 in Kenedy, TX. Joe was born on April 3, 1952 in Coy City to the late Santos, Sr. and Olegaria Diaz Molina. He was an Oil Field Supervisor most of his life and in his later years worked as an Agricultural Technician for Krause Ag Services; he was a loving father, grandfather, uncle, brother, friend to many and a member of the First Assembly of God Church in Karnes City, TX.
Joe is preceded in death by his wife Mary Molina; parents, Santos, Sr. and Olegaria Diaz Molina; and sons, Joe Molina, Jr; Robert Molina.
Joe is survived by his daughters, Mary Elizabeth Ortiz of Karnes City, Patricia Bell and husband Robert of Kenedy, Desiree Badillo and husband Salvador of Conroe, Kyara Martinez of Kenedy; son Heberto Martinez and wife Pompoza, of Kenedy; sisters, Janie Wheeler of Kenedy, Lola Maldonado of Lampasas, Vicenta Mendoza of Victoria, brothers, Frank Martinez of Karnes City, Gavriel Molina of Kenedy, Johnny Molina of Beeville and Santos Molina, Jr. of Kenedy; grandchildren, Estrella Herlinda Ortiz, Jesus Jose Ortiz, Emberlee Anne Bell, Reyna Badillo, Tatum Kobe Ramos, Paul Anthony Rodriguez, and Selena Rose Rodriguez; great-grandchildren, Adyson Jayde Barrientez, Zaida Betty Rodriguez, and Paxton Anthony Rodriguez; and many beloved nieces and nephews.
A visitation will be held Saturday, November 21, 2020 from 9A.M. to 11A.M. with Memorial Services at 11:00 A.M. in the Eckols Chapel with the Rev. Jim Cummings officiating. Inurnment will follow at the Nell Cemetery with graveside services by Mr. Randy Witte in Nell, TX.