Maria Lourdes "LuLu" Janssen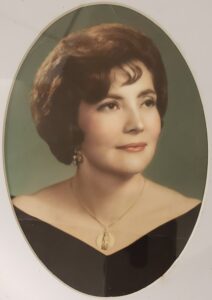 Maria Lourdes "LuLu" Janssen, Age 93 of Kenedy, TX formerly of San Antonio, TX passed away on October 14, 2020. Maria was born on February 22, 1927 in Monterey Nuevo Leon, Mexico to the late Avilio Macotte and Socorro Rodriguez Sepulveda. Maria moved to the United States in 1960; she married George R. Janssen on Dec. 6, 1974 in San Antonio, TX; became a citizen on October 24, 1985; retired from Julian Gold as their seamstress in the mid 70's and moved to Kenedy when her husband retired in 2000. Maria excelled in embroidery, knitting, and painting of all sorts from Texas Bluebonnets to Diego Rivera and his wife Freida, farm tractors, the Light houses of Padre Island and etc. She was a loving wife, aunt, sister, friend to many and a member of Our Lady Queen of Peace Catholic Church.
Maria is preceded in death by her husband, George R. Jannsen; parents, Avilio Macotte and Socorro Rodriguez Sepulveda; sister Socorro Martinez; and brother, Avilio Rodriguez Sepulveda, Jr.
Maria is survived by her nieces and nephews, Lillie Alvarez and husband Teodoro, Sr., Feliciana Janssen and husband Henry, Sr., Teodoro Alvarez, Jr., Alfredo Alvarez and wife Adelfa, Soilo Alvear and wife Frances, Oralia Moreno, Ernest Alvarez, Avilio Sepulveda, Alejandro Sepulveda, Barbara Sepulveda, Mary Colyer; brother in laws, Ricardo Protesek, Lucia and Blanco Protesek and a host of cousins and other relatives.
Visitation will be held Saturday, October 17, 2020 from 10AM to 11AM with a Rosary beginning at 11AM and Services at 11:30 AM in the Eckols Funeral Home Chapel with the Rev. Norbert Hermann officiating. Interment will follow in the Loma Alta Cemetery in Kenedy, TX.