Rolando A. Escamilla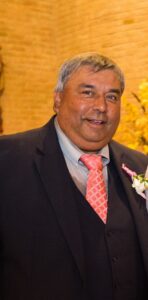 Rolando A. Escamilla, of Pawnee, TX born on July 12, 1960 in Karnes City, Texas to Reducindo Escamilla Sr. and Esmerenciana Alvarado Escamilla passed away on Friday, September 11, 2020 at the age of 60.
Mr. Escamilla was employed as a  Refinery Shift Superintendent for Valero Refinery, Three Rivers, TX and had over 37 years of service.
He is preceded in death by his parents. He is survived by his loving wife of 29 years: Sandra S. Escamilla of Pawnee, TX; his beautiful daughters: Anadelle (Matthew) Bell of Corpus Christi, TX and Klaryssa Escamilla of New Braunfels, TX; and his handsome son: Kalli Escamilla of New Braunfels, TX; his two favorite grandchildren: Christian and Carter Bell; his sisters: Nora (Randle) Franke of Pawnee, TX, Nelda (Raymond) Luna of George West, TX and Mirella (Melvin) Davis of Pawnee, TX; brothers: Ray (Estella ) Escamilla, Pawnee, TX and Rudy Escamilla of Three Rivers, TX; numerous nieces, nephews, and other relatives.
Visitation will be held on Monday, September 14, 2020 from 12:00p.m. to 9:00p.m. at Eckols Chapel. A Rosary will be recited Monday, September 14th, at 7:00p.m. at Eckols Chapel with: Rev. Ryszard Zielinski to recite and music by: Fernando Cisneros and Elizabeth Garcia. Knights of Columbus to present lapel pin to deceased and rosary beads to family.
Funeral services will be held on Tuesday, September 15th, 2020 at 10:00a.m. at Our Lady of Guadalupe Catholic Church in Pawnee, Texas with Rev. Ryszard Zielinski officiating. (Funeral Procession will leave from Eckols Funeral Home at 9:15a.m. to the church).
Interment to follow in Our Lady of Guadalupe Cemetery in Pawnee, Texas.
Reception at the Our Lady of Guadalupe Parish Hall, Pawnee,TX.
Pallbearers: Corky Franke, Lucas Escamilla, Travis Escamilla, Fidel Luna, Moses Escamilla, Luke Escamilla, Dustin Davis, Eddie Salinas, Kyle Savage, Roelio Gutierrez, Gerard Goudeau, D.J.Gonzales, and Christian Salinas.
Memorials may be made in his memory to the Our Lady of Guadalupe Catholic Church,  P. O. Box 572, Pawnee, TX 78145.