Laurie Ann Bevel McCarley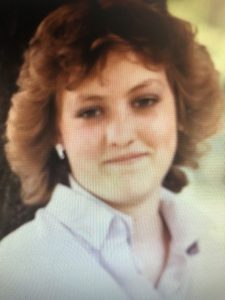 Laurie Ann Bevel McCarley, age 51 of Kenedy, Texas passed away on Sunday, May 10, 2020 in Beeville,
Texas. Laurie was born on July 16, 1968 in El Paso, Texas to the late Jack and Royleene Jacobson Bevel.
At an early age, Laurie enjoyed gymnastics, dance and sports. She attended Hanau American High School in Hanau, Germany where she was an officer in the JROTC and she participated in the Military Youth Activity Softball League. After graduation she moved to Kenedy,Texas where she pursued and held many different careers in retail, sales, Certified Nursing Assist, and the ACE Program and Substitute Teacher at KISD. She loved animals, especially frogs. She loved all things purple and was an avid Texas Longhorn fan. She was a member of the First Baptist Church in Kenedy, Texas and loved working in the nursery.
Laurie was preceded in death by her parents Jack and Royleene Jacobson Bevel, and nephew Jonathan Hackney. She is survived by her daughter Jennifer McCarley; brothers: Jack (Shawnna)Bevel of DeRidder Louisiana, and Jeff (Liz) Bevel of San Antonio, Texas; sister: Shirlene (Kent) Hackney of Kenedy, Texas; numerous nieces and great nieces and nephews.
Due to the current panademic, a private immediate family service was held at the Kenedy Cemetery on June 20, 2020. The McCarley and Bevel family wishes to thank each of you for your love, your support and your prayers throughout this difficult time.