Guadalupe V. Rodriguez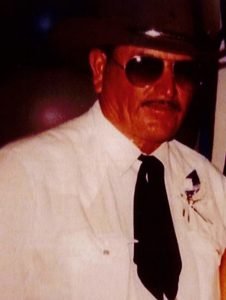 Guadalupe V. Rodriguez, Age 82, of Kenedy, TX passed away on Sunday, February 17, 2019 in Victoria, TX. Guadalupe was born on March 5, 1936 in Karnes County, TX to the late Domingo and Irmalinda Valdez Rodriguez.  Guadalupe married Dominga Garcia August 23, 1960 in Kenedy, TX.  He retired as a rancher/farmer was a loving husband, father, grandfather, great-grandfather, friend to many and a member of Our Lady Queen of Peace Catholic Church.
Guadalupe is preceded in death by his parents Domingo and Irmalinda Valdez Rodriguez; daughter, Patricia Rodriguez; sister, Josie Aguirre; brothers, Dolores Rodriguez, Domingo Rodriguez, Esperion Rodriguez, Felipe Rodriguez, Luis Rodriguez, and a grandson David Ray Rodriguez.
Guadalupe is survived by his loving wife Dominga Garcia Rodriguez of Kenedy; daughters, Paula Rodriguez of San Juan, Sylvia (Samuel) Martinez of Kenedy, Norma Rodriguez of Victoria, Nancy Trevino of Victoria, Elisa (Cosme) Rosales of Victoria, Estella Medina and Rene Pizana of Victoria, Sandra Rodriguez of Victoria, Sara Rodriguez of Kenedy; sons, Guadalupe Rodriguez, Jr. of Victoria, Gilbert Rodriguez of Kenedy, David (Ofelia) Rodriguez of Kenedy, Jesse (GayLynn) Rodriguez of Victoria, Robert Rodriguez of San Diego California, 109 Grandchildren and Great-Grandchildren.
A Holy Rosary will be recited by Rev. Norbert Hermann, Sunday, February 24, 2019 at 7PM in the Eckols Funeral Home Chapel. Funeral Mass will be celebrated Monday, February 25, 2019 at 10AM at Our Lady Queen of Peace Catholic Church with the Rev. Paschal Bergin officiating.  Interment will follow in the Loma Alta Cemetery.
Pallbearers will be Joseph Munoz, Jacob Rodriguez, Jacob Garcia, Ronnie Carrasco, Roque Serna, and David Medina.
Honorary Pallbearers will be Lawrence Carrasco, Guadalupe Rodriguez, III, Sammy Martinez, Jr., David Rodriguez, Jr. and Michael Munoz.