Bert Malaer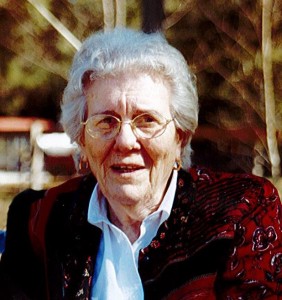 Bertha Lee Malaer age 95 of Tuleta, Texas passed away Dec. 17, 2016 in her home. She was born on Oct. 3, 1921 in Center, Texas to Charlie and Eunice Clark Allen.
Bert married Clifton Malaer on Aug. 5, 1939 in Luling, Texas. She retired from the Pettus ISD school cafeteria and the Tuleta Post Office.  Granie Bert loved and enjoyed her children, grandchildren, all of her "great grands" and her many nieces and nephews.  Gardening and quilting were two of her favorite activities.
Bert was a member of the First Christian Church of Pettus. There she served the Lord in many capacities.  She was preceded in death by her parents, her husband, an infant son, her daughter –in-law Shirley Malaer and three brothers.
Survivors include her son, Louis Malaer of Tuleta, daughter Katy Dusek and husband Jim of Victoria, brother Weldon Allen and wife Loyce of San Antonio, 8 grandchildren, 14 great grandchildren and 3 great- grea t grandsons and many nieces , and nephews.
Visitation will be held on Wednesday, Dec. 21, 2016 from 5:00PM to 7:00PM at the Eckols Chapel.  Funeral services will be held at the Eckols Chapel at 11:00 AM on Thursday, Dec. 22, 2016.  Interment will follow in the Beeville Memorial Park in Beeville, TX.  Memorial may be made to the First Christian  Church of Pettus, PO Box 133 Pettus, Texas 78146.