Edwin Paul "Eddie" Ruhmann, III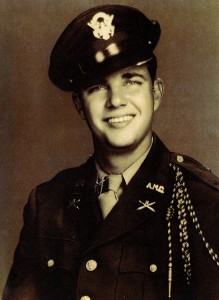 Edwin Paul Ruhmann, III was born in Kenedy, Texas on February 9, 1929 and died on January 14, 2015 at the age of 85.  He is survived by his wife of 64 years, Jeanne Russell Ruhmann, his son James Russell Ruhmann and his wife Yvonne of Cotulla, Texas, grandsons Zachary (Lauren) of Pleasanton, Texas and Trenton of Cotulla. He was preceded in death by his parents E. P. Ruhmann, Jr. and Grayce Reasoner Ruhmann and his son Edwin Paul Ruhmann, IV.  He lived in Kenedy his entire life with the exception of 2 years of military service in the U.S. Army  during the Korean War. Ed attended Texas A & M University and graduated in 1950.  He was an avid follower of anything Aggie.  He served as a Director of the 12th Man Foundation for over 15 years and as the Area Representative for the Association of Former Students.  Ed farmed for many years near Pawnee.  He and his wife Jeanne owned and operated the Southern Office Supply in Kenedy for over 40 years.  He was a member of the First Baptist Church where he served as Deacon and taught Sunday School for many years.  He was a member of the Rotary Club where he served as President, a member of the Kenedy Lodge #774 serving as the Past Master for 50 years.  He served as Director of the First Nichols National Bank for a number of years. Ed served on the Kenedy ISD board for over 15 years and supported all school activities his entire life.  He served on the Hondo Creek Watershed Board for a number of years and as a county member of the Texas Veterans Land Board.  He was a member of the Alzafar Shriners in San Antonio for many years.   Ed and Jeanne were chosen as Citizens of the Year in 2011 by the Kenedy Chamber of Commerce. Ed loved the outdoors.  He spent many hours on his ranch near Cotulla hunting and raising cattle.  He raised both of his sons to respect nature, and as a grandfather, taught his grandsons much of his knowledge of the ranching life, how to hunt and care for everything on the ranch.  Ed's life touched many people, and he will be missed by all. The family will receive friends Saturday, January 17, 2015 beginning at 12 Noon until 2 PM in the Eckols Funeral Home Chapel.  Services will begin Saturday, January 17, 2015 at 2 PM in the Eckols Funeral Home Chapel with the Rev. Matt Singleton officiating.  Interment will follow in the Kenedy Cemetery, Kenedy, TX. Serving as pallbearers will be Zachary Ruhmann, Trenton Ruhmann, Gary Heirholtzer, Ed Ebrom, Mike Andrews, Gene Lake, Glen Kusak. Honorary pallbearers will be Tony Garrant, Bob Alexander, Dick Franklin, Frank Knocke, Amos Hardin, Malcolm Williams, Bob Smith, Earl Grant, George Rogers.
In lieu of flowers, the family requests donations be made to First Baptist Church in Kenedy, Choate Baptist Church, Humane Society of Kenedy, Christian Life Center for Food in Kenedy or the Texas A&M University Corps of Cadets.