Margarita Cruz Sendejo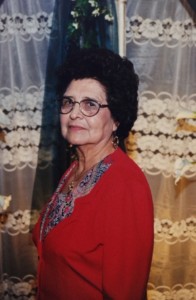 Margarita Cruz Sendejo, surrounded by her family at her residence in Floresville, Texas, peacefully passed away at 12:15 P.M. Thursday, August 8, 2013 at the age of 95 years, 1 month and 18 days.
Margarita was born, June 20, 1918, in Floresville, Texas, the daughter of Juan Cruz, Sr., and Lina Flores Cruz. She attended school up until the fourth grade and then began working with her family. At the young age of five, Margarita learned how to ride horses with her father. Growing up Margarita worked various small jobs with her family around the fields of South Texas and then later in Michigan. Later in her teenage years and into her adult life Margarita could be found at the local dances. She had a love for dancing like no other and even much later in her life could occasionally be found on the dance floor.
Margarita was of the Catholic faith and practiced it faithfully. She was a lifetime member of Sacred Heart Catholic Church in Floresville, the Church where she brought up her family. Margarita lived a simple life filled with much family and love. She was a loving mother to, Mary, Petra, Rosa, Rudy and Eudelia; having raised them all and instilling in them strong morals and many life lessons. She tended to her children and her home with great love and took pride in it all.
Margarita had a special love for not only her children, but her numerous grandchildren, great-grandchildren and a few great-great grandchildren. She took delight in raising many of them throughout the years and took great pride in each one of them. She could always be found moving and bustling away throughout the many houses she visited; it wasn't long after Margarita was in your house before you had a clean kitchen and hand washed dishes. She enjoyed her many games of Loteria she played around the dining room tables of her children and grandchildren. She never played for much of a prize; but always found her own prize in the time she spent with them all. In addition to her many hobbies another of her favorites was sitting at
the table and coloring, she colored many a pages from the coloring books of her grandchildren and took great joy in finishing a page and showing it off.
She is preceded in death by her parents, Juan, Sr., and Lina Cruz; her daughters, Elida Sendejo and Mary Sendejo Silva; her sister, Magdalena Garcia; her brothers, Juan Cruz, Jr., and Jacovo Cruz; her grandson, Leandro "Rooster" Herrera, Jr., and her son-in-law, Francisco "Frank" Rodriguez. Margarita is survived by her children, Petra Rodriguez of Floresville; Rosa Guajardo and husband Reynaldo of San Antonio, Rudy Sendejo and wife Mary Ann of Saspamco and Eudelia Herrera and husband Leandro, Sr., of Floresville; her son-in-law, George C. Silva, Sr., of Floresville; her numerous grandchildren, great-grandchildren and a few great-great grandchildren. She is also survived by numerous nieces, nephews, cousins and a host of many friends she made throughout her lifetime.
Visitation will begin after 5:00 P.M., Sunday, followed by the recitation of the rosary at 7:00 P.M., Sunday, August 11, 2013, at Sacred Heart Catholic Church, Floresville, Texas. Visitation will begin at 9:00 A.M. Monday, August 12, 2013, with 11:00 A.M. Funeral Mass celebrated at Sacred Heart Catholic Church, Floresville with Msgr. Franciszek Kurzaj officiating. Interment will follow at Sacred Heart Cemetery, Floresville, Texas. Serving as pallbearers will be, George O. Silva, Jr., Lorenzo Herrera, Jr., James Ray Guajardo, Ernest Rodriguez, Gregory Peña and Ronnie Sendejo.