Grace "Gracie" Marian Griffith Franklin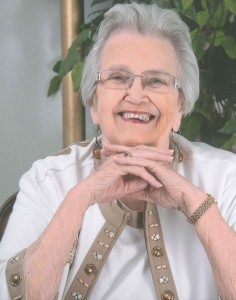 Grace Marian Griffith Franklin passed away, Tuesday, January 31, 2012, at 1:15 P.M., in Amarillo, Texas, at the age of 86 years, 10 months and 6 days.
Grace was affectionately called "Gracie" by all that knew her and "Gigi" by the grandchildren and great-grandchildren she loved so much.
Gracie was born March 25, 1925 in Lubbock, Texas the daughter of, Harold Hinman Griffith and Grace Marian Andrews Griffith. Since her dad was Military – she bounced around a lot, but grew up mainly in Lubbock, Amarillo and Kenedy, Texas, living with relatives and friends of the family.  She attended high school in Lubbock and Kenedy, Texas.  After graduating high school, Gracie went off to attend Amarillo Junior College, TWU and in 1966 graduated from Southwest Texas State.
While in high School she met her husband to be, and on October 26, 1944, she married Ruhman C. Franklin. From this union, Ruhman and Gracie had 4 children; Richard, John "Don", D'Anne and David.
Gracie and her family lived in Kenedy for most of their life.  Gracie was a school teacher and loved her classroom children very much. She retired from teaching after 24 years of service – building our community through educating our children.  During her career she also made time to be a mother to three, grandmother of four and be the Mayor's wife.
She belonged to Delta Kappa Gamma and the Texas Federation of Women's Clubs for many years serving as the Alamo District Club President for one term and was chosen as Outstanding Club Woman.  She was an annual UIL Sponsor and International Hostess.
Gracie was a member of the First Methodist Church in Kenedy, where she was very active helping with the MYF and served as the Junior Choir Director for many years.  She later joined the First Baptist Church in Kenedy in 2003, where she belonged until she moved in 2004.  Gracie moved to Amarillo to an assisted living facility near her older son Richard.  While in Amarillo, Gracie was president of the Red Hat Society, taught Sunday School, was active in crafts and managed the gift shop. She also organized and operated the library.
Gracie is preceded in death by her beloved husband of 53 years, Ruhman C. Franklin; her son David Michael Franklin and her foster brother, John V. Spikes, Jr.
Gracie leaves behind her children; Dr. Richard H. and Tonja Franklin of Amarillo, Don and Becky Franklin of Katy and D'Anne and John Conrad of League City. Gigi's Grandchildren and Great-Grandchildren; Carla Anne and husband Javier Pruneda and their daughter Melania Grace Pruneda, Michael Bates and his wife Carol Franklin and their children Mollie Elizabeth and Braden Bates Franklin, Bryan Carl Houck and his children Kaylee Nicole and Kameron Ruhman Houck and John D. Jr.  "John" and his wife Sarah Franklin.
Other surviving cousins and relatives include: Jeanne and Eddie Ruhmann, Russ, Yvonne, Zachary and Trent Ruhmann, Donna and Morris Atkins, Karen and Bill Daugherty, Frank and Cathy Griffith, Lynne, Don, Dixie and Bill Wallace,Tommy and Mollie Wyrick,Don and Wanda Bengochea, George Griffith, Sonny Griffith, and Harold and Vera Griffith.
Visitation was held, Saturday, February 4, 2012, from 1:00 – 3:00 P.M., with Funeral Services following at 3:00 P.M., in the Eckols Funeral Home Chapel, Kenedy, Texas, with Richard Robinson officiating. Interment followed in the Kenedy Cemetery. Serving as Pallbearers were, Michael Franklin, John Franklin, Bryan Houck, Javier Pruneda, Russ Ruhmann and Zachary Ruhmann. Serving as an Honorary Pallbearer was, Trent Ruhmann.
In lieu of flowers the family request that donations be made to the American Cancer Society, P.O. Box 22718, Oklahoma City, OK 73123; or to the charity of your choice.