Seferino G. Serna, Sr.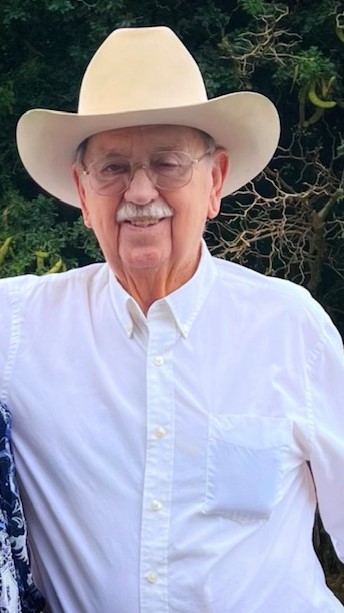 Seferino G. Serna, Sr. a lifelong resident of Pawnee, Texas, entered into eternal rest on Monday, March 13, 2023 at home in Ray Point, Texas at the age of 88 years 7 months and 14 days.
Seferino was born, August 26, 1934 in El Oso, Texas, the son of Aurelio Serna, Sr. and Luisa Gonzales Serna. He married Elida Villanueva on June 10, 1956 in Pawnee, Texas. Mr. Serna was a hardworking farmer and rancher, a devoted husband, loving father, grandfather, great grandfather and great-great grandfather.
Seferino is survived by his beloved wife of over 66 years, Elida Serna of Pawnee, TX; his sons, Roque Serna and wife Lillian from Nell, TX, Rene Serna and wife Delia of Beaumont, TX; his daughters, Estella Perez and husband Thomas of Kenedy, TX, Imelda Marin and husband Joe from Ray Point, TX, Ilda Serna from Pawnee, TX, Irene Aguirre and partner Richard Moya of Three Rivers, TX; his brother, Dionicio Serna of Guymon, Oklahoma; sister-in-law, Anita Serna from Pawnee, TX; brother-in-law, Servando Villanueva of Garden City, Kansas. He is also survived by 17 grandchildren, 32 great-grandchildren, 8 great-great grandchildren plus 2 on the way.
Mr Serna is preceded in death by his son, Seferino Serna, Jr.; his parents, his sisters, Maria Villanueva, Felicita Smith and his brothers, Elifonso, Fernando and Isaac Serna.
Visitation will be held Friday, March 17, 2023 in the Eckols Funeral Home Chapel from 5PM to 7:30PM with a Holy Rosary to be recited at 7:30 PM. Funeral Mass will be celebrated Saturday, March 18, 2023 at 2:00 PM ay Our Lady of Guadalupe Catholic Church in Pawnee, TX with the Rev. Richard Zielensky officiating. Interment will follow in the Nell Cemetery in Nell, TX.
Serving as Pallbearers are: Diesel S. Marin, Daniel A. Munos, Gilbert Aguirre, Jr., Jonathan Serna, Michael F. Serna, Robert Serna, Fernando Serna, Jr., and Anthony R. Ruiz, Jr.