"Grams" Juanita Ruiz Arreazola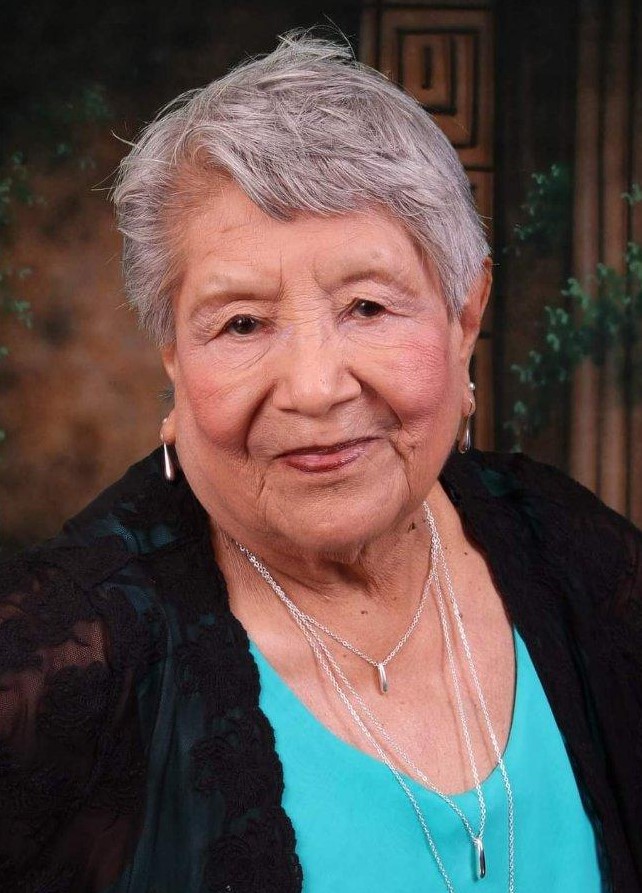 "Grams" Juanita Ruiz Arreazola, Age 87 of Kenedy, TX passed away on February 3, 2023 in San Antonio, TX. Juanita was born on March 7, 1935 in Goliad, TX to the late Pedro and Concepcion Rios Ruiz. She was a retired private health care provider, loving mother, grandmother, great-grandmother, of the Christian faith and a friend to many who will be greatly missed.
She is preceded in death by her parents Pedro and Concepcion Rios Ruiz; brothers Carlos, Guadalupe and Ignacio Sr., Juan Ruiz; sister Julia Garza.
She is survived by her daughter, Diana Hernandez of El Paso, TX; son, Raoul Baldaramos of Kenedy, TX; grandchildren, Alberto "Bert" Hernandez Baldarramos, Matthew (Elisa) Hernandez, Joseph (Soña) Hernandez, Daniel (Alisha Salinas) Hernandez, Adam (Jessica) Hernandez all of Kenedy, Anthony Baldaramos of San Antonio, Amy Baldaramos; sister, Manuela Perales of Kenedy; brother, Andres Ruiz of San Antonio, 4 great-grandsons, 3 step great-grandsons, 2 great-granddaughters and 2 step great-granddaughters and her dog Tank. Numerous nephews and nieces. Close family friends, Richard and Bonnie Urbanek.
Family/Friend Visitation will be held Saturday, February 11, 2023 from 10:00 A.M. to 12:00 P.M. with a Prayer Service to start at 12:00 P.M. in the Eckols Funeral Home Chapel with the Rev. Rebeca Garza (Samaria Church, Santa Rosa, TX) officiating. Interment will follow in the Loma Alta Cemetery.
Serving as Pallbearers: Peter Ruiz, Adam Ruiz, Ignacio Ruiz, Jr., Jesse Ruiz, Joseph Ruiz, Patsy Mendez-Ruiz.
Honorary Pallbearers: Alberto "Bert" Baldarramos, Matthew Hernandez, Joseph Hernandez, Daniel Hernandez, Adam Hernandez.
Juanita "Grams" gave her life to the Lord, Jesus Christ in the late 1970s. She began serving the Lord from then on. She started her ministry at the Primera Iglesia Bautista (Rev. Jose Rodriguez) in Abernathy, TX where she held many leadership positions; Sunday School Secretary, UFM Women's President, Church Missions Director, Union Femenil Misionera President (Emmanuel), Children's Sunday School Teacher, Choir and Church Trustee. There she served for 10 years.
In 1988 along side her late brother Ignacio Sr. founded the Alpha and Omega Church, Lubbock, TX. There she served as associate pastor, Women's President.
In 1989 she moved to Kenedy, TX. After visiting Elim Pentecostal Church, Karnes City (Dr./Rev. Honorio Velasquez) after a year she became a member. At Elim she served in various leadership capacities, Women's President/Vice President, Sunday School Director, Children's Sunday School Teacher, Deaconess, Missions Director and Church Trustee. Which she served for 17 ½ years in that church.
In 2008 she began to visit Heavenly Gates Family Worship Center in Runge, TX. There she reinstall the Women's Ministry. She served as Women's President.
In the summer of 2010 she began to visit Samaria Church (Rev. Rebeca Garza) in Santa Rosa, TX. A bond like on other began with her late pastor Rev. Marilanda V. Torres and Rev. Rebeca Garza. Every time Grams would go to the Rio Grande Valley it was like home away from home. At Samaria she was one of the prayer warriors. She was very well respected by each church member. She was a member of over 11 years.
Grams left an impact on so many people. God blessed her with a tremendous ministry. At every church she served, it was always the same leadership role. She was a God fearing woman, a prayer warrior, a woman of her word. A woman who practiced what she preached.