Martha Padron Soto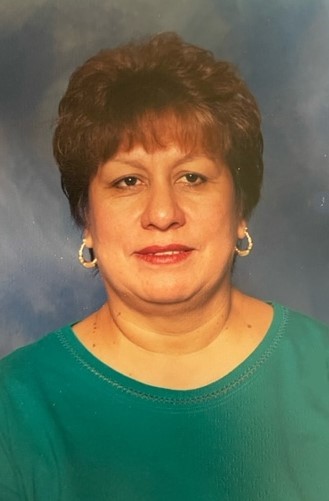 Martha Padron Soto, at the age of 72 of Kenedy, Texas passed away on January 23, 2023, in Corpus Christi, Texas. Martha was born April 2, 1950 to the late Felix Padron, Jr. and Argelia Loya Padron. On November 23, 1972 she married Carlos Soto in Kenedy, TX. Martha was a sales lady and a child care provider. Upon retirement she was a homemaker, loving wife, Mother, Grandmother, and Great-Grandmother and of the Christian Faith.
She is preceded in death by her parents, Felix and Argelia Padron; brothers, Fred Padron, Fernando Padron and sisters, Mona Padron, Margie Cano, Mary Ann Garcia and a nephew Christopher Padron.
She is survived by her husband Carlos Soto; daughter, Sonya Soto (Tony Moron); son, Philip Soto(Erica Rangel); grandchildren, Kristine Cano (Kyle Hayter), Kiara Soto, Oscar Hinojosa (Lauryn Brynelson), Brayden Kirk, Evan Soto, John David Soto, Kaleb Soto, Valerie, Tiffany, Erica, Roy Moron and Emma Sistos; great-grandson Kyler Hayter; sisters Melinda Padron, Magdalena (Don) Cornelius, Minerva (Lloyd) Crawford, Marina Padron Silfuentes; brothers, Felix (Mary) Padron, Fabian (Sylvia) Padron, Frank (Becky) Padron; sister-in-law's, Christina Padron, Georgia Leal, Susan Rangel, Rosie Garza, Sandy Bondch, Mary Alvarez, Grace Salias, Clara Cantu, Eva Diaz, Mary Rodriguez; brother-in-law's, Juan and Benny Soto and numerous nieces, and nephews.
Visitation will be held Thursday, January 26, 2023 from 5PM to 7PM in the Eckols Funeral Home Chapel with a Prayer Service at 7PM with the Rev. Walter Hill, III officiating. Services will be Friday, January 27, 2023 at 10AM in the Eckols Funeral Home Chapel with the Rev. Walter Hill, III officiating. Interment will follow in the Sacred Heart Cemetery in Kenedy, TX.
Serving as Pallbearers: Richard E. Jalufka, Joe Valdez, Brian Crawford, Lloyd Crawford, Kevin I. Cano, and Ruben Munoz, Jr.
Honorary Pallbearers: Oscar Hinojosa, John David Soto, Braden Kirk, Evan Soto, Kaleb Soto and Kyler Hayter.