Violet Loraine Fields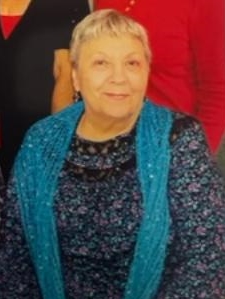 Violet Loraine Fields 86 of Tulsita, Texas passed away Tuesday May 24th. She was born in Mineral, Texas June 29, 1935 to Jennie (Blake) Vaught and Lafayette W. Vaught. She married Robert Fields on April 10, 1953 in Rockport, Texas She was artistic, creative, hard working and she enjoyed spending time with her grandchildren. She is preceded in death by her parents Jennie and Lafayette W. Vaught; her brothers, Lafayette Jr., Cecil Vaught, Robert Vaught and her sister Dorothy Looney. She is survived by her husband of 69 wonderful years Robert E. Fields, Sr.; her children, Judith Davis and husband Keith of Sweeny, Valerie Moore of Tulsita, Jennifer Massey and husband Gary of Alvin, Robert E. Fields, Jr. of Beeville, Philip Fields of Alvin; grandchildren Lisa Davis, Kimberly Burke, Robert Moore, Jared Massey, Brett Massey, Patrick Massey, Clayton Fields and 6 great grandchildren.
Visitation will be Monday from 10:00 AM to 11:00 AM with services starting at 11:00 AM in the Eckols Funeral Home Chapel with the Rev. Larry Perkins officiating.
In lieu of flowers please send donations to First Baptist Church Pettus Building Fund.