James Howard Daniel Sr.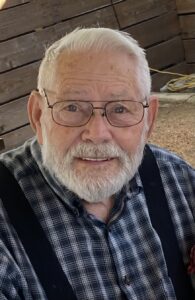 James Howard Daniel Sr. ,87, of Martindale, Texas formerly of San Antonio, Texas passed away on April 25, 2022.
Jim was born in Roby, Texas to James H. Daniel and Hannah Gruben Daniel and was the fourth born out of five. He had three older sisters and one younger. He moved to San Antonio when he was 7.  He graduated from Burbank High School and served in the United States Army from 1957-1959. He attended San Antonio College.
He started working during high school for TriWay Printing and Mailing and went back there once he left the Army.  In 1975, he left TriWay and started his own company called Advanced Printing and Mailing Service. Later he acquired General Business Machine Service and combined the companies to become General Printing and Mailing Equipment. He retired around 2000. Jim was an ordained Deacon and member of Gideon's International. He held several positions in the church and loved working with youth.
Jim loved the Texas Water Safari! He was a team captain for his son, Jay for a few years and continued to follow the race annually until he was no longer able and was known for his "Red Book" containing river maps and time estimates. He worked endless hours building canoe prototypes and built the mold for the record holding boat.
He loved taking his grandchildren out in the motorhome and enjoying the outdoors.
He is preceded in death by his parents: James H. Daniel and Hannah Gruben Daniel; three older sisters and their spouses: Iva Mae Wilkins (Edmund), Lucille Pearce (Philo), Nathalia Russell (Ferrell); and his younger sister: Carlita Johnson.
He is survived by his wife of 60 years: Betty Bruton Daniel; son and daughter-in-law: J H Daniel, Jr. "Jay" and Kristin; daughter: Kathleen Daniel and fiance, Mike Thomas; grandchildren: Kyle Wayne Hartmann (Tessa), Brandon James Hartmann, and Kassy Renee' Daniel; great grandson: Jack Aaron Brooks Banegas; and brother-in-law: Edward Johnson.
Visitation will be held on Monday, May 2, 22 at 12:00Noon at Eckols Chapel with Funeral Services beginning promptly at 1:30p.m. at Eckols Chapel with Rev. Jim Graham officiating. Interment in Kenedy Cemetery.
In lieu of flowers, memorial donations may be made to Hope Hospice of New Braunfels or the First Baptist Church Televison Ministry, San Antonio, Texas.