Reyes Ramirez Alaniz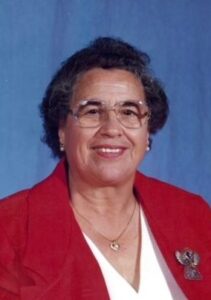 Reyes Ramirez Alaniz, age 87 of Pawnee, Texas, passed away February 22, 2022 in Victoria, Texas.  She was born on October 13, 1934 to the late Carlos Charles Ramirez and Felipa Leal Ramirez.  She married Alfredo Alaniz on September 22, 1951 in Pawnee.  She retired from Pawnee ISD, worked as a home health provider in and around Pawnee and also worked at the Mobil Uranium Plant in Pawnee.  She was a loving wife, mother, grandmother, great grandmother, great-great grandmother and a member of the Our Lady of Guadalupe Catholic Church in Pawnee, Texas.  She is preceded in death by her husband Alfredo Alaniz, parents Carlos Charles Ramirez and Felipa Leal Ramirez, an infant daughter, Yolanda Alaniz; sister Angelita Reyes, brother Carlos Ramirez.  She is survived by her children Stella (Ronald) Belcher of Pawnee, Belia "Billie" (Vidal) Garza of Kenedy, Audelia (Rey) Trevino of Three Rivers, Alfredo "Fred" (Grace) Flores of Angelton, Belinda (Alfonso) Camacho of Goliad, Rosa "Rosie" (William) West of Pawnee, Able (Maria) Alaniz of Beeville, Larry (Elva) Alaniz of Pawnee,; sisters, Antonia Cisneros of Abilene, Ramona Garza of San Antonio, Leonor Davila of Baytown, Tina Rupp of Oakridge, TN; 18 grandchildren, numerous great-grandchildren, and 2 great-grandchildren.
Visitation will be held Sunday, February 27, 2022 from 5:00 P.M. to 7:00 P.M. with a Holy Rosary to be recited at 7:00 P.M. in the Eckols Funeral Home, Chapel.  Funeral Mass will be celebrated Monday, February 28, 2022 at 10:00 A.M. at Our Lady of Guadalupe Catholic Church with Rev. Richard Zielensky officiating. Interment will follow in the Our Lady of Guadalupe Cemetery in Pawnee, TX.
Serving as Pallbearers will be: Ronald Belcher, Jr., Vidal Garza, III, Adrian Flores, T.J. Solis, Johnny Garcia, Abel Flores, Jr. and Larry Alaniz, Jr.
Honorary Pallbearers: Aaron Flores, Alfred Lee Garcia, Joe Garcia and Moses Gonzales.