Yvonne Kent Soyars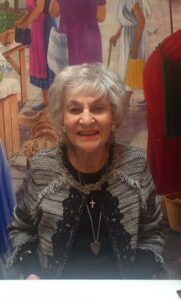 Yvonne (Tinka) Kent Soyars was born to Lloyd and Elvie (Hallmark) Huber on January 15, 1929. She left this life to be with our Lord Jesus on January 30, 2022, at the age of 93.  Tinka was a nickname given by her father because she was so small. He died when she was only 3 years old, and she always looked forward to getting to know him in Heaven one day. Tinka was raised by her mother and grandmother, Maggie Mae (Mamae) Hallmark, and lived in Kenedy until she graduated from high school in 1946. She was a twirler and class favorite in high school, and the first Flax Queen in Kenedy.   She attended Trinity University and met Jim Hilliard when he was stationed at Randolph Air Force Base. They married and had two daughters, Valle and Patti. They divorced after several years. Tinka then finished her education at South West Texas State University in San Marcos and obtained her teaching degree. She taught 4th and 5th grade music and science in Kenedy for many years. She loved her students and was frequently described as "FUN"!
Tinka married Charles Kent, Jr. and they had two children, Annette and John. Charles passed away in 1979. Five years later, Tinka married Bill Soyars and moved to San Marcos and later to Onion Creek in Austin.  Bill was a gifted golfer and they traveled to tournaments throughout the U. S., Scotland, and England. They were blessed to be married 35 years. Tinka always enjoyed meeting new people, and never met a stranger. She was deeply loved by many and had friends in every season of her life. She looked for the best in everyone and always enjoyed a good story or laugh.
 Tinka had a deep love for music and loved to share her passion with others. She directed a youth choir, and later the senior choir at the Methodist Church in Kenedy. She was a member of Hyde Park Baptist Choir in Austin for many years. In 2008, the choir was invited to sing in the White House, much to her delight. After joining Cornerstone Church in San Antonio two years ago, she mentioned how she would love to join that choir!
 Tinka took her children and their friends to see the Beatles in Houston in the 60's, and several bands in San Antonio in the 70's.  In recent years, she saw the Doobie Brothers for a second time, and took all of the girls to see Celine Dion in 2020.   "Listen to the Music" was one of her theme songs, and what student of hers can forget, "Looking Out My Backdoor"?  A second mom to many, her positive and hopeful attitude knew no bounds as she treasured time with her children and their friends.
Tinka was preceded in death by her husband, Bill Soyars; son, John Kent; and son-in-law, Ron Moorash. She is loved, missed and survived by her daughters, Valle Moorash, Patti Hendrix (Billy), Annette Lovelace (David); grandchildren, Clifford Schramm, Christi Hajek (Joe), Lindsey Hendrix, Holly Lovelace; and great grandchildren, Kaitlyn Hajek and Erin Hajek.
The family wishes to acknowledge with gratitude, Bonnie Russell King, for her very special friendship and love for Tinka.
1Thessalonians 4 says, "We do not grieve as those who are without hope" for we know that we will meet again.
The family will receive friends from 12:00 P.M. to 1:00 P.M. on Saturday, February 12th, 2022 at Eckols Funeral Home in Kenedy, Texas.
Celebration of Life Services will begin promptly at 1:00 P.M. Saturday, February 12th at Eckols Chapel with Rev. Derrick Benn officiating.
Interment to follow in the Kenedy Cemetery. Pallbearers: Todd Slaughter, Jim Pogue, JR Becho, Burke Braun, Lloyde Soyars, Joe Hajek.