Adelina "Rennie" Rodriguez Kern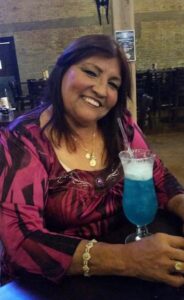 Adelina "Rennie" Rodriguez Kern, Age 65 of Kenedy, TX went to be with her Lord and Savior on Monday, November 15, 2021.  Rennie was born on July 24, 1956 in Kenedy to the late Saturnino, Sr. and Adelina Salais Rodriguez. She was a loving wife, mother, grand-mother, great-grandmother, sister, aunt, friend to many, of the Baptist Faith who loved spending time with her children and grandchildren, playing bingo with her sisters and playing the local game rooms.  She is preceded in death by her husband Donald William Kern; parents, Saturnino, Sr. and Adelina Salais Rodriguez; son, Daniel Kern; brothers, Reynaldo Rodriguez, Ernie Rodriguez, and Raul S. Rodriguez, Sr.  She is survived by her daughters, Pamela Hernandez and husband Jesus of Kenedy, Christi Vera and husband Martin of Kenedy, Jo Ann Kern of Kenedy, Joyce Martinez of Kenedy; son, Reynaldo Kern of Kenedy; sisters, Yolanda, Maria, Josie, Frances, Connie, Geneva, Betty; brothers, Reymundo, Saturnino, Jr; 14 grandchildren, 5 greatgrandchildren and beloved partner Pacifico Martinez.
Visitation will be held Thursday, November 18, 2021 from 2:00 P.M. to 7:00 P.M. in the Eckols Chapel with a Prayer Service at 7:00 P.M.  Inurnment will take place at a later date.