Maria Trinidad (Trini) Collins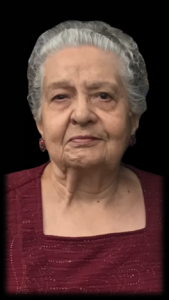 Maria Trinidad (Trini) Collins, age 82 of Kenedy, Texas, passed away on Friday, January 8, 2021, in San Antonio, Texas. Maria was born on July 19, 1938, in Kenedy, Texas to the late Celso Alvear and Eloisa Acosta Alvear. Maria was the oldest of 18 children. Her father passed away at an early age, which caused Maria to step in and assist her mother in raising her siblings. She learned to hunt, farm, sew, cook, and be a caretaker from a young age. She was resilient and had plenty of stories and wisdom to share. On July 23, 1974, Maria married the love of her life, Lewis Gyles Collins, in Kenedy, Texas. She was a faithful and devout member of First Baptist Church, Kenedy for many years. Maria loved Jesus and lived that love out loud. She volunteered as Sunday School teacher, Mission Friends teacher, youth group helper, and made many meals for Wednesday night fellowships. She would start her day sharing a cup of coffee and devotional time with her husband. She was a hard-working, smart, active, funny, and loving wife, mother, and friend. Maria cherished her children and her grandchildren, and received great joy from feeding people. If you ever visited the Collins' household you knew there would always be room for you at their table and there was always plenty to go around. She and her husband were both amazing cooks, grew their own vegetables, and enjoyed traveling together. Maria valued the talents she learned at an early age and appreciated hard work. She never allowed her children to go without, even if it meant working multiple jobs and doing things by hand. She taught her children and grandchildren how to make homemade Playdough, arts & crafts, and would occasionally bring out her sewing machine to make a shirt for her daughters, or blankets for a grandchild, or any other project she was in the mood to accomplish. Maria loved reading novels, Readers Digest and National Geographic magazines. She also enjoyed tending to her cats, her plants, and taking care of others.
Maria is preceded in death by her husband, Lewis Gyles Collins; parents, Celso and Eloisa Acosta Alvear; sisters, Diana and Maria Elena; brothers, Lorenzo, Celso, Miguel, George, Alberto, and David; and grandsons, Guadalupe Rodriguez III and Thomas Ray (Tray) Vickery III.
Maria is survived by her daughters, Sally Dovalina of Gonzales, Rosemary Vickery and husband Tommy of Kenedy, Sarah Booker and husband Michael of Floresville; sons, Roger Dovalina and wife Belinda of Helotes, John Dovalina and wife Rachel of Austin; sisters, Mrs. Romeo Garcia (Eloisa) of San Antonio, Mrs. Edward Salazar (MaryAnn) of Victoria, Mrs. Randy Horn (Elvira) of Cushing, Alicia Palacios of San Antonio, Mrs. Santiago Cruz (Lydia) of Alvin, Susie Alvear of Oklahoma, and Maria Luisa Garza of Michigan; brothers, Soilo Alvear of League City, and Luis Alvear of Highlands; grandchildren, Victoria (Tory) Reyna, Erica Miranda, Mrs. Lillian (Lillie) Smith, Alyssa Miranda, Edward (Eddie) Dovalina, Laurel Vickery, Travis Vickery, Mia Dovalina, Nicholas Dovalina, Collin Booker, Deacon Booker, Elijah Booker; and great-grandchildren Giovanni Reyna, Vicente Reyna, Aribella Reyna, Manolo (Manny) Reyna, Katarina (Lola) Reyna, and Sophia Rodriguez.
Family Visitation will be Thursday, January 14, 2021, from 5:00 p.m. to 7:00 p.m. at Eckols Funeral Home Chapel. Funeral Services will be held Friday, January 15, 2021, at 10:00 a.m. at First Baptist Church, Kenedy, with Pastor Matt Singleton officiating. Interment will follow at the Kenedy Cemetery, Kenedy, TX.
Serving as Pallbearers will be, Edward Dovalina, Travis Vickery, Nicholas Dovalina, Collin Booker, Hosea Smith, and Tony Cruz.
Honorary Pallbearers are Roger Dovalina, John Dovalina, Thomas Vickery II, Michael Booker, Giovanni Reyna, Vicente Reyna, Deacon Booker, Elijah Booker, and Raymond Martinez.
Memorials may be given to First Baptist Church Kenedy or the Alzheimer's Association.