Armida Garcia Cano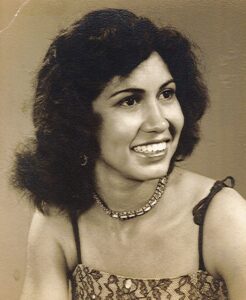 Armida Garcia Cano, Age 86 of Kenedy, TX passed away on Saturday, December 26, 2020 in San Antonio, TX. Armida was born on January 5, 1934 in Kenedy to the late Higinio and Ysabel Coy Garcia. She married Lupe Cano on August 8, 1953 in Kenedy, retired from EODC Headstart Center after 18 years of faithful service, volunteered at John Paul II Nursing Home, was a member of Our Lady Queen of Catholic Church and a loving wife, mother, grandmother, great-grandmother, great-great grandmother and friend to many who will be greatly missed.
She is preceded in death by her husband, Lupe M. Cano, Sr.; parents, Higinio and Ysabel Coy Garcia; son Lupe M. Garcia, Jr.; 2 sisters and 5 brothers.
She is survived by her daughters, Alice Saenz and husband Felix of Kenedy, Norma Wishert and husband Kavin of Humble, Cynthia Romero of Floresville; sons, Enrique Pedroza and wife Anita of Karnes City, Richard Pedroza and wife Diana of Kenedy; 10 grandchildren, numerous great-grandchildren, and 4 great-great grandchildren.
A Holy Rosary will be recited Wednesday, December 30, 2020 at 10AM with Funeral Services at 10:30 AM in the Eckols Chapel with the Rev. Norbert Hermann & Rev. Paschal Bergin officiating. Interment will follow in the Sacred Heart Cemetery in Kenedy, TX.
Serving as Pallbearers will be Matthew Hinojosa, Zeke Jacques, Timothy Jacques, Jacob Hinojosa, Justin Pedroza.
***Due to the current Covid-19 pandemic you will be required to wear a face mask covering to enter the Building/Chapel to attend the Holy Rosary or Services of Mrs. Armida Garcia Cano and practice Social Distancing for the safety of the CANO FAMILY and those attending. Thank you for your cooperation and respectfulness – The Staff of Eckols Funeral Home, Inc. ***