Esmeraldo Saenz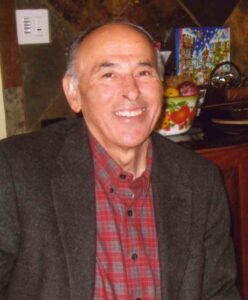 Esmeraldo Saenz, 79, went to be with his Lord and Savior, November 1, 2020, at the Cottages at Danny Kaye in San Antonio. Esmeraldo was born in Kenedy, Texas and spent his youth years in Pettus, Texas where he graduated from high school. He went on to Texas A&M University where he earned a Bachelor of Science degree in Math.
Esmeraldo was a beloved and dedicated entrepreneur who strived to make the world a better place by selling educational products for school children throughout Texas and New Mexico. He and his wife, Frances, celebrated their 58th wedding anniversary in September 2020. Esmeraldo was a loving, kind, smart, and generous Christian family man. He was loved by all who knew him, especially his family, friends, past employees and clients. Esmeraldo will be dearly missed.
Esmeraldo Saenz is survived by his loving wife, Frances Garcia Saenz, sons and daughters'in law, Robert and Debra Saenz, Leonard and Erin Saenz; grandchlildren: Logan, Rudy, Lauren, Macie, Lucia, Roman and Cody Saenz; his brother: Humberto Saenz, Jr. and family.
Esmeraldo will be laid to rest in Kenedy, Texas. A Rosary will be recited at 7:00P.M.  Friday, November 6, 2020 at Eckols Chapel. Funeral services will be held on Saturday, November 7, 2020 at 10:00a.m. at Our Lady Queen of Peace Catholic Church, 605 Karnes St. Kenedy, Texas.