Noelia M. Velasquez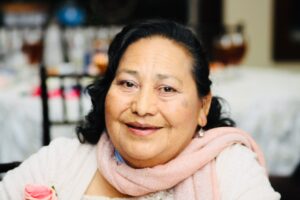 Noelia Velasquez of Kenedy, TX was born in Saltillo Coahuila, Mexico to the late Lucio Martinez Oyervides and Josefa Mendoza Silva on April 21, 1950. She emigrated along with her husband into the United States of America in 1970, they arrived in Kenedy, Texas to be pastors of a small church for five years. Alongside her husband Rev. Honorio Velazquez, Sr. they founded Elim Pentecostal Church in Karnes City, Texas where all their lives' efforts have been devoted, expanding the Kingdom of God for His glory.
Besides being a homemaker and virtuous mother, she worked tirelessly with her husband in the service of the church. Her most current merits and acts of admiration were in the beginning of 2020, while being confined to a wheel chair, she still gave her final preaching and she sang her final hymn in her beloved church. She would ignore and overcome her limitations and still give glory to God in spite of her condition. These and many more will be her acts of heroism as the Matriarch of Elim Pentecostal Church.
She is survived by her mother Josefa Mendoza Silva, husband Rev. Honorio Velazquez Sr. and six children: Joel (Reyna); Avelino Jonathan (Coretta); Honorio, Jr.(Suzanna); Laurentina Esther (Daniel); Lucio (Rebekah); Enoc (Jessica); and her grandchildren: Ruben, Jazmin, Terrance, Micai, Anna Kate, Audrey, Ahser, Ruth, Hadassah, Isaiah, Jerusha Arri, Eden, Elijah, Emma-Lee Noelia, Everly, Levi; as well as ones sister Laurentina Ellett (Frank) from Burnett, TX; and nine siblings who live in Mexico (Gamaliel, Jose, Samuel, David, Berta, Noemi, Mirna, Alicia, Hilda).
Visitation will be held at the UPLCII Convention Center, 617 Dewitt, Kenedy, TX 78119 at 9:00a.m. Saturday, August 15, 2020 with Funeral Services beginning promptly at 10:00a.m. with Rev. Samuel Montoya officiating. Interment to follow in Loma Alta Cemetery. Pallbearers: Otto Oroxon, Mark Oroxon, Alfredo Velasquez, Leo Velasquez, Daniel Garza, Ruben Velasquez.