William Travis Froh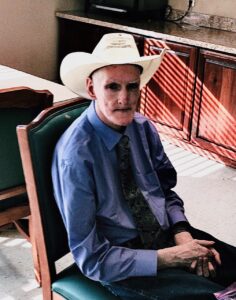 William Travis Froh, known to most as Bill Froh, passed away peacefully in his sleep in the early morning hours of July 27th, 2020. Bill Froh was born William Travis Ratcliff on August 17, 1958 in Midland, Texas to his biological parents Janell and John Ratcliff. His parents soon divorced and his mother returned home to Luling where she married her high school sweetheart Walter Slater. At age 6, while his step father was a sea with the U.S. Navy, Janell became to ill to care for Bill. However, he was fortunate to be welcomed into his forever family in 1964 when he was adopted by Riley and Mary Froh shortly after they married.
Bill was intelligent and quick witted. He had love of music and singing and possessed  perfect pitch. As a child, he loved to be read to and developed a deep love and fascination with the old west. He enjoyed any and all things cowboy related and had a special fondness for the lore of Billy the Kid. As all cowboys do, Bill had a special attachment to his cowboy hat and was happiest when he had it on.
Bill was preceded in death by his maternal grandmother Inez Griffin, his mother Janell Slater, and step-father Walter Slater. He is survived by his loving parents Riley and Mary Froh of Luling; his brother Noble (Camille) Froh of Harwood; his nephews and niece: Jacob, Cooper, Tyler and Emma Froh; as well as the many loving and caring staff member of Kenedy Health and Rehabilitation Center who cared for him like family in his final years, especially his champion Sandra DeLaGarza.
Graveside services will be held at the Luling Cemetery, Luling, TX at 11:00a.m. on Friday, July 31, 2020.