Doris Ann Buering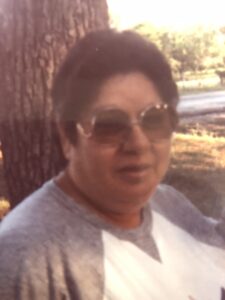 Doris Ann Buering was born July 26, 1940 in Kenedy, TX to Marvin and Dolly Waltersdorff. As a child, she along with her 12 brothers and sisters attended school in Kenedy. She made it up to the 8th grade at which point she went to work at Greens Nursing Home. At the ages of 22 and 23, she was blessed with two beautiful daughters Debby and Sandra, who in turn blessed her with 4 grandchildren, Colby, April, Johnny and Charles. Doris had many different jobs but a big part of her journey in life was when she worked at Reggies Bar. While working at Reggie's, she met the love of her life Werner Buering.
"Hello Darling"-When Werner would walk into Reggie's she would play his song and in turn this became his favorite song towards her.
They made the commitment to be married on September 19, 1970. The happily lived in Karnes County for 12 years. In 1976, she and Werner moved to Giddings where they lived out their lives until Werner's passing in 2013. Werner and Doris were never blessed with children of their own, but still had a baby boy they adored and had a hand in helping raise him. Thanks to Elizabeth and Adolph Boelter they had Brian Boelter, he was like a child to them. In 2013, Werner was brought back to Karnes County to be laid to rest. During this time, Doris decided to live out the rest of her life with her sister Barbara and at the the Blue Bonnet Nursing Home. Those who knew Doris- knew she was a fast talking, beer drinking, Polka dancing, domino playing kind of lady. But her favorite past-time was spending time with family and friends. While she spent her days in the nursing home, she spent her time crocheting. To this day, you could walk the rooms at the nursing home and see her handy work as she would donate her blankets and such to her fellow residents.
Each and everyone of you have a special memory and past with Doris. She will be missed and loved always by the family she leaves behind.
She was also preceded in death by her parents, her daughter:Debra Kubala, and infant Richard Alvarez Jr. brothers: Marvin Waltersdorff Jr. and Alton Waltersdorff; and sister: Frances Donnell.
She is survived by her daughter: Sandra McRaven; sisters: Rachel Krawietz, Barbara Creek, and Elizabeth Boelter; brothers: Lawrence and Richard Waltersdorff ;son in law: Johnny Kubala; 4 grandchildren: 4 great grandchildren; and other relatives. Visitation will be held Wednesday, June 17, 2020 from 11:00a.m. to 1:00p.m. at Eckols Chapel. Funeral services will be held at 2:00p.m. at Eckols Chapel with Randy Witte officiating. Interment to follow in Kenedy Cemetery.
Pallbearers: Colby Caruthers, Charles Meadows, James Meadows, Richie Alvarez, Dwayne Creek and Matthew Kubala.