Mary Garcia Villarreal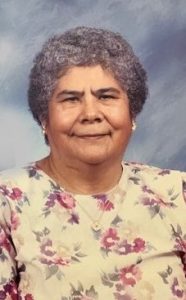 Mary Garcia Villarreal, Age 82 of Kenedy, TX passed away Sunday, May 17, 2020 surrounded by her loving family at her residence in Kenedy, TX. Mary was born on January 12, 1938 in Kenedy, TX to the late Jose R. and Florencia (Perez) Garcia. On December 22, 1960 she married Joe Lopez Villarreal in Kenedy, TX. She was a loving Wife, Mother, Grandmother, Great-Grandmother, a devout member of Our Lady Queen of Peace Catholic Church serving faithfully as a sacristan and a friend to many who will deeply miss Mary.
She is preceded in death by her parents, Jose R. and Florencia Perez Garcia; sisters, Juanita Garza and Margaret Beltran; brothers, Jesus Perez Garcia, Jose Perez Garcia, David Perez Garcia, Cipriano Perez Garcia and Guadalupe Perez Garcia.
She is survived by her husband, Joe Lopez Villarreal of Kenedy; daughter, Florence Bryan and husband Juan M. Jr. of Kenedy; grandsons, Austin Bryan and wife Victoria of Kenedy, Kristofer Lane Bryan of Kenedy and numerous nieces, nephews, and a host of relatives and friends.
A Holy Rosary will be recited Wednesday, May 20, 2020 at 7PM in the Eckols Chapel. Funeral Mass will be celebrated Thursday, May 21, 2020 at 10AM at Our Lady Queen of Peace Catholic Church with the Rev. Norbert Hermann officiating. Interment will follow in the Loma Alta Cemetery in Kenedy, TX.
Serving as Pallbearers will be Patrick Tam, Henry Guerra, Jerry Garcia, Michael Garcia, Jimmy Beltran, Jr. and Cipriano Garcia, Jr.