Vicente Arenas, Sr.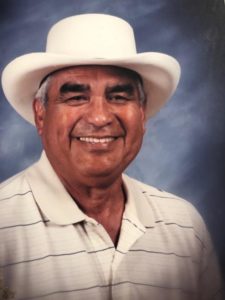 Vicente Arenas Sr, age 82 died peacefully in his sleep at 2:00am Friday February 7, 2020. Vicente a devout Catholic, died after a 7 year battle with Parkinson's. Vicente left high school to join the Marines in Camp Pendleton, California. He received an honorable discharge from the Corps in 1958 with the rank of Lance Corporal. Vicente married Victoria Aguirre of Pettus, Texas in 1956 and had four children. He was a member of the Knights of Columbus. He was an avid baseball player and founded the Kenedy Sportsmen's Club which raised money to help boys buy baseball gloves and uniforms. He also managed the local baseball team the Kenedy Aces and the Kenedy Royals.   He also loved Lone Star beer and mariachi music and was known to serenade family and friends and even strangers acapella.  Vicente also loved oak trees and became an expert at growing them on his beloved 6 acres in Kenedy. And that is where his story ends. After becoming diagnosed with Parkinson's, Vicente asked his family to honor his wishes of dying at home. And that is where he lost his courageous battle with the disease with family at his side.  Vicente was married to his wife Victoria Aguirre Arenas for 63 years.   He raised 3 Daughters Debra, Diana, Basilia, one Son, Vicente Jr.  and a Grandson Eduardo Villarreal Jr.  He is survived by his wife, Victoria Aguirre Arenas of Kenedy, one Sister, Aurora Galvan of Port Lavaca, Texas; Daughters, Debra Ann Cantu and spouse Roberto (Kenedy), DiAnna  and Spouse Alfredo Fuentes, Jr.  (San Antonio),  Basilia and Spouse Elmorris Foley, Jr. (Killeen), son, Vicente Arenas Jr, (Denver); Grandson Eduardo Villarreal Jr and Spouse Jessica (Kenedy). Vicente had 7 grand children and 22Great Grand Children and 10 Great Great Grandchildren.
A Holy Rosary will be recited Tuesday, February 11, 2020 at 7:00 P.M. in the Eckols Chapel.  Funeral Mass will be celebrated Wednesday, February 12, 2020 at 10:00 A.M. at Our Lady Queen of Peace Catholic Church with the Rev. Norbert Hermann officiating.  Interment with Military Honors will follow in the Kenedy Cemetery.
Pallbearers: Edward Villarreal, III, Anthony Aguilar, Christopher Palacios, Juan DeLosSantos, IV, Nathan DeLosSantos, Andrew Earlenbaugh, Alexander R. Palacios and Marcus Bryan.
Honorary Pallbearers: Nando Salinas, Stormy Rossett, Daniel Salais, Cecil Radicke, and Raul Garcia, Sr.