Marjorie Fayrene Overby Ellison Knight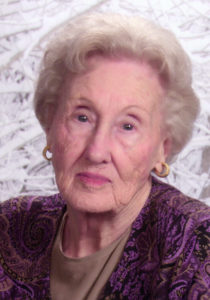 Marjorie Fayrene Overby Ellison Knight, cherished mother, grandmother, great-grandmother and great-great grandmother, passed away Friday, January 3, 2020 in Hallettsville, TX at 97 years of age. She was born April 19, 1922 in the Overby Community near Kenedy,TX to Robert Overby and Oda Vickery Overby, the oldest of seven siblings. Marjorie was first married to L. G. Ellison before she married Holden L. Knight of Runge,TX. She is survived by her three children and their spouses, Shera Ellison Horne (Sam) of Bandera, Patsy Knight Lange (Ed) of San Antonio, and Marion Gayle Knight (Gloria) of Dale, TX and by two of her sisters, Texie B Overby Odom (Joe,deceased) of Kingsville and Loretta Overby Young (Don, deceased) of Stockdale. Eight grandchildren are Marla Nixon, Keith Horne, Shawn Horne, Shannon Saenz, Darrell Knight, Kevin Knight, Tammy Knief, and Jerrod Knight, with seven great grandchildren and four great-great grandchildren. Marjorie lived most of her life in Kenedy, where she was an active member of the First Baptist Church. Starting with caring for babies in the nursery, she advanced to teach nearly every level of Sunday School and bible study groups, including her own peer group, the Fellowship Class, as they aged through many years. She was also involved with WMU activities of the Church. It was quite ordinary to have a pastor of the church on his rounds through the town to stop by to say hello to Marjorie and have a refreshing glass of tea. The same was true for her many friends and other townspeople, as well as all of her extended family, because they knew Marjorie would invite them in for a chat and refreshments, no matter how busy she might be. She delighted in homemaking and church activities and also worked at various businesses in Kenedy through the years. Marjorie was preceded in death by both her parents, Rob and Oda Overby, her husband, Holden L. Knight, and sibling Quentin Dee (infant), Bobby (infant), Dennis Carrol Overby (Marcelene), Neva Jean Overby Jackson (Ray, deceased), Beatrice Fern Overby Brockman (Cliff, deceased), and Kenneth Oliver Overby (Doris). In her later years, Marjorie enjoyed living in Victoria for almost twelve years. She then moved to Houston to live with her grandson, Darrell Knight, along with Rodney Radford and young Braydon Radford who delighted her in her old age. At a very advanced age, she moved to a nursing home in Hallettsville, TX. May she now rest in peace in her new heavenly home. Visitation begins at 1:00p.m. at Eckols Chapel with Funeral Services beginning at 2:00p.m at Eckols Chapel with Rev. Aaron Corporon officiating. Interment to follow in Kenedy Cemetery. Pallbearers: Darrell Knight, Rodney Radford, Kevin Knight, Jerrod Knight, Timothy Jurek, Mike Saenz. Honorary Pallbearer: Brayden M. Radford.
In lieu of flowers, memorials may be made to the South Texas Children's Home, P.O.Box 1210, Beeville,TX 78104.