Luisa Espinoza Ureste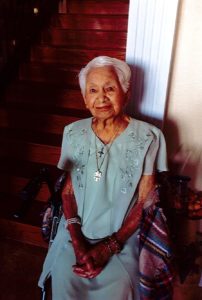 Luisa Espinoza Ureste, of Karnes City, TX born on March 6, 1927 in Whitsett, TX to Francisco Delgado Espinoza and Josefa Onofre Espinoza passed away on January 14, 2020 at the age of 92 in Kenedy, TX. Luisa was preceded in death by her husband, Adelaido in 1988 her daughter, Abelia Nancy Barrientes, son, Rodolfo Ureste and sister, Gloria and brother, Salvador. She is survived by her children: Angelita Ureste Gutierrez of Cypress,TX, Josie U. Barrientez of Humble,TX, Celia U. Saenz of Karnes City,TX, Mary U. (Raymond) Booth, of Spicewood,TX, Adelaido Anthony(Hilnar) Ureste of San Antonio, TX. Gloria Esther Ureste of Houston, TX and Robert Dale (Sonia) Ureste of San Antonio; 20 grandchildren; one niece and other relatives. Visitation will be held on Friday, January 17, 2020 from 5:00p.m. to 9:00p.m. at Eckols Chapel with a Rosary to be recited at 7:00 p.m. at Eckols Chapel. Funeral Mass to be held on Saturday, January 18, 2020 at 10:00a.m. at Our Lady of Guadalupe Catholic Church, Pawnee, Texas with interment to follow in Nell Cemetery, Nell, Texas. A light reception will be held immediately after graveside services at the Our Lady of Guadalupe Church Hall in Pawnee, TX.
Serving as Pallbearers:Tim Thomas, Larry Barrientes, Rene Servantes, and Robert Dale Ureste.