Dorothy Rayburn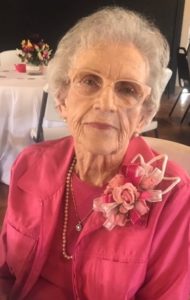 Dorothy Agnes (Scott) Rayburn, 92, of Beeville, Texas went to her heavenly home on December 9, 2019.  Dorothy was born in the Green Community, Karnes County on September 8, 1927 to Lon Walker and Lou Ella (Vaughan) Scott. Dorothy married Charles Norman Rayburn on January 17, 1948 in Kenedy, Texas.  Charles & Dorothy made their home in Kenedy, Texas where they raised their three children.  Dorothy was employed as a teller at the First Nichols National Bank of Kenedy after graduation. After starting a family Dorothy was a devoted homemaker.  Dorothy had other business pursuits that included Circle N. Grocery and cosmetic sales.  Dorothy was a director of the Kenedy Chamber of Commerce and an active member of the Kenedy First Baptist Church.  Dorothy loved having family gatherings in her home.  Dorothy was proceeded in death by her parents, Lon & Lou Ella Scott, her husband Charles N. Rayburn, two brothers, Vaughan D. (Kathleen) Scott and Leonard W. (Bonnie) Scott, two sisters, Winnie Ruth (Bernard) Olson, and Louise (Gordon) Johnson.  She is survived by her children and their spouses, Cheryl Ann (David) Dollase, Beeville, Texas, Dorothy Jean (Brad) Yeater, Kenedy, Texas and Charles Norman –"Chip" Trina Rayburn, Jr., La Grange, Texas. Grandchildren: David Jason Dollase, Kansas City, Mo., Dori Allison Yeater, Austin, Texas Kelsey Nicole Yeater, Austin, Texas, Chase (Shelby) Rayburn, Cypress, Texas, and Matthew Scott Rayburn, Galveston, Texas.  Great grandchildren: Cade Walker Dollase, Reid Parker Dollase, Charlee Nicole Rayburn & Jenna Kay Rayburn, Niece Sue Thiele and many other loving nieces and nephews and a vast array of friends.
Services will be held at the Eckols Funeral Home, 420 West Live Oak Street, Kenedy, Texas Visitation will be from 5:30 to 7:00 PM on December 11, 2019. The funeral will be at 10:00AM on December 12, 2019 with interment in the Kenedy Cemetery.
Pallbearers: Chase Rayburn, Danny Scott, Doug Olson, Gary Thiele, Phillip Stewart and Tom Dybowski, honorary pallbearer Michael Scott.
The family would like to thank her caregivers who have been so helpful in providing care and attending to Dorothy. Anysia Gomez and all the staff of Gramman Assisted Living. Caregivers Anita Garcia, Mary Jane Medellin, Catarina Gomez, Celia Segovia, Olga Castaneda, Claudia Gilmore, Rubi Gomez, Marissa Puente, Irene Dominguez, Misty Govella, Elsa Munoz, Mae & Tara with Exclusive and Jeanette with Hospice.
In lieu of flowers donations can be made to the Kenedy First Baptist Church and the South Texas Children's Home.