Larry Hedtke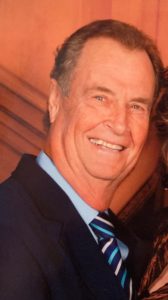 Larry Hedtke passed away peacefully at home surrounded by his loving family Tuesday, October 1, 2019 . Larry was born October 2, 1946, to Gustav and Viola Hedtke in Karnes County. He was a graduate of Karnes City High School, and attended San Antonio College. He served his country in the U.S. Army as a medic for two years, and was a proud Vietnam veteran. Larry married Beverly Deskin on August 19, 1972, in Karnes City. And for almost 40 years he worked for Farm Bureau  Insurance Company. He loved his Farm Bureau family and clients.
Larry also served on many boards and councils: Karnes County Hospital, Rotary Club, Chamber of Commerce, Karnes City Library, Badger Comeback, and Karnes City United Methodist Church. One of his most enjoyable activities was being the "Voice of the Badgers" on game tapes for 20+years. He also enjoyed being MC of the Miss Town and Country Days Pageant for 20 years.
Larry loved shredding on his tractor, and said this was where he did his best thinking. He loved gardening, boating, his country, Karnes County, and the Ojo Rojo Ranch. Most of all Larry loved his family and friends. His two grandsons, Declan and Colton, never failed to bring a smile to his face. Larry was so proud of his sons, Wade and Garrett, who always  were the apples of his eye. His loving and supportive wife, Beverly, made his life complete. The last 14 years of Larry's life were blessed by his constant companion, his border collie, Cinco. They went to town every Saturday morning together for breakfast tacos.
Larry was preceded in death by his parents, brother Allan, sister-in-law Judy, brother-in-law Elroy, and niece Vicky. Larry is survived by his wife Beverly, sons, Wade and Garrett, daughter-in-law Ashley, grandons Declan and Colton, sister Ruby Seeger, Cyndy and Steve Davis, Gary and Ann Deskin, Darryl and Julie Deskin, Wes and Louiza Deskin, Will and Jenna Robinson, Clayton and Becca Robinson. Terrell and Stacey Seeger, Jerry Seeger, Jim Seeger, Bob and Kathy Seeger, and numerous great nieces and nephews and many, many friends.
Visitation will be held Friday, October 4, 2019 from 5:00p.m. to 7:00p.m. at Eckols Chapel in Kenedy, Texas. Funeral Services will be held on Saturday, October 5, 2019 at 2:00p.m. at St. Paul's Lutheran Church in Karnes City, Texas. In lieu of flowers, memorials may be made to CTRC San Antonio http://www.uthscsa.edu or the charity of your choice.