Jess Burkett Williams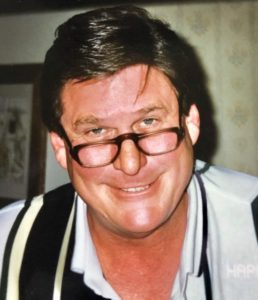 Jess Burkett Williams was born on January 21, 1946, to Lucy Williams and Jess Grady Williams, in San Antonio Texas.  Jess attended Kenedy High school and briefly went to college at Sam Houston University. He was an exceptional athlete participating in all sports, excelling in football, baseball and track.  He went to Sam Houston State and played football for one year.  Jess married his high school sweetheart Nancy Jane Klingerman in Karnes City on January 29, 1966.  Jess and Nancy moved back to Kenedy to start their family where they had two children Jess Jr and Rebecca Noel.
 Jess then began his illustrious carrier in the insurance business, a career that expanded over 40 years, his primary company was Business Men's Insurance where he received awards year after year as the top performer.  He served on the Field Advisory Board in 1980, which is one of the company's highest honors bestowed on an agent. He was also a lifetime member of the Million Dollar Round Table. During his career a product of his works he attended conferences all over the world, where Jess and Nancy enjoyed many good times together.  Jess was a very active member of his community, most notable activities include; the Karnes City Rotary Club, the Knights of Columbus, he was also an active member during his children's years in school in the Badger Booster Club, even as President one year. Jess was a very active sports man where he coached and participated in slow pitch softball, with the Animals where they won numerous tournaments. He loved to hunt and fish, the family coast house was shared by many and great times were had by all.
Jess is survived by his wife, Nancy Jane Williams; son, Jess Williams Jr of Victoria; daughter, Rebecca Noel Miller (T.K.) of Karnes City; sisters, Cindy Burris (Mike) of Victoria, Elizabeth Haglestein (Ann) of San Antonio; and brothers Charlie Braun (LeAnn) of Karnes City,  Burke Braun (Julie) of Karnes City. Grandchildren, Jess Williams III of Victoria, Coleman Williams of Victoria, Ellen Williams of Victoria, Molly Miller of Karnes City and Maggie Miller of Karnes City, as well as numerous nephews and nieces.
Visitation will be held on Monday, October 28,2019 from 5:00p.m. to 9:00p.m. with a Rosary to be recited at 7:00p.m. at Eckols Chapel. Funeral services will be held on Tuesday, October 29, 2019 at 11:00a.m. at Eckols Chapel with interment to follow in the Kenedy Cemetery. Memorials may be made to the Karnes County Humane Society or the Wounded Warrior Project. org.