Rigoberto C. Saenz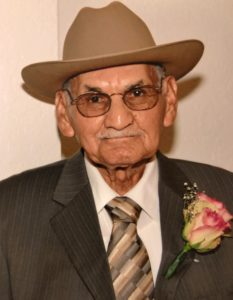 Rigoberto Carrion Saenz, was born on January 08, 1926 in Three Rivers, Texas to Dionicio and Romana Saenz, he was 93 years, 6 months and 11 days. He lived in Pawnee, Texas and went to meet his Lord and Savior on July 19, 2019 at 12:24, he was in his Pawnee home surrounded by his wife, children and grandchildren. He lead a long, healthy and blessed life.
He married Eledia Duenez on September 29, 1958; they had a marriage of 60 years. He has 5 sons: Ephraim (Dottie)Saenz of San Antonio, Joel (Robyn) Saenz of Pawnee, Steve (Cristana) Saenz of El Campo, Eddie Saenz of Pawnee, and Oscar (Laura) Saenz of San Antonio and 4 daughters: Rebecca (Alfredo) Magana of San Antonio, Raquel (Epifanio, III) Villarreal of Pawnee, Lilly (Eli)Amaya of San Antonio, and Lorena Saenz of Karnes City. He has 23 grandchildren; 12 great grandchildren; numerous nieces and nephews and cousins who loved him dearly. He is preceded in death by his parents: Dionicio and Roman Saenz; his sisters: Hortencia Acevedo, Maria Cavazos, Eulalia Asevedo, and Gregoria Ramirez and his brothers: Jose Maria Saenz, Margarito Saenz, Nicholas Saenz, Eligio Saenz and Marcelito Saenz and 3 great
grandchildren: Epifanio, IV, Eledia Maria and Elian Daniel Villarreal.
Rigoberto Saenz was a humble uneducated man, he had a third grade education; he was a farmer and a minister. The Reverend Rigoberto Saenz began his ministry in the Latin American Council of Christian Churches in 1964. He pastored Bethel Church in Beeville, Texas then was Pastor to Smirna Church in Pawnee, Texas for 55 years. He was a faithful servant of God and loved to share his testimony with everyone he met. He loved to preach about God's love and forgiveness. His kindness, patience and his passion for spreading the love of God was admired and loved by his community and his church family.
Funeral Services will be held at Eckols Funeral Home in Kenedy, Texas. Visitation will begin at 5P.M.on Tuesday, July 23, 2019 with a Prayer service to be held at 7:00P.M. Chapel Service will begin at 10A.M. on Wednesday, July 24, at Eckols Funeral Home. Interment at Our Lady of Guadalupe Cemetery in Pawnee, Texas. Services will under the direction of numerous Ministers of the Latin American Council of Christian Churches. Please note the following websites to leave condolences: www. olingermortuaryservice.com, www.SouthsideFH.com and www. HeritageOaksMortuary.com or  to sign guest book.