Josephine "Josie" Ortiz Nunez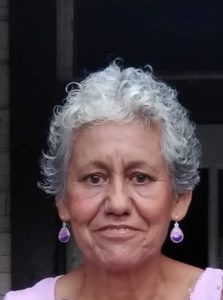 Josephine "Josie" Ortiz Nunez, Age 68 of Kenedy, TX passed away on Monday June 3, 2019 in Kenedy, TX. She was born on Jan. 1, 1951 in Yorktown, TX to the late Joe, Sr. and Maria Garcia Ortiz.  She married Adam Nunez on Jan. 24, 1976 in Yorktown.  Josephine retired as a Medication Aide for Greens Nursing Home; was a loving Wife, Mother, Grandmother, Sister and a devout member of Our Lady Queen of Peace Catholic Church.  Josephine is preceded in death by her parents, Joe, Sr. and Maria Garcia Ortiz.  Josephine is survived by her husband, Adam M. Nunez of Kenedy; daughters, Amy Nunez Lane and companion Luis Gonzalez of Kenedy, Ashley Nunez and companion Robert Garcia of Kenedy; son, Adam Joseph Nunez of Kenedy; sisters, Alicia Perez and Husband Rudy of Yorktown, Esther Corpus and Husband Tony of Yorktown, Irma Ortiz  of Yorktown, Yolanda Wollerman and husband Shaun of Alpine, TX; Half-sister Amber Ortiz of Kirby, TX; brothers, Pete Ortiz and wife Sylvia of Cuero, Johnny Ortiz of Yorktown, Joe Ortiz, Jr. and wife Esmeralda of Yorktown, Ricky Ortiz  and wife Cheryl of Yorktown, Michael Ortiz of Yorktown;  grandchildren, Daryan Moreno, Joseph Lane, Joslyn Lane, Daniel Gonzales, Nina Garcia, Hope Nunez, Adam Joseph Nunez, Jr., Faith Nunez, Miranda Nunez and numerous nieces, nephews and friends.
A Holy Rosary will be recited Thursday, June 6, 2019 at 7PM in the Eckols Funeral Home Chapel. Funeral Mass will be celebrated Friday, June 7, 2019 at 10 AM at Our Lady Queen of Peace Catholic Church with the Rev. Norbert Hermann officiating.  Interment will follow in the San Luis Cemetery in Yorktown, TX.
Serving as Pallbearers will be Randy Corpus, Keary Perez, Russell Ortiz, J.R. Perez, Kalvin Corpus, Matthew Ortiz and Daryan Moreno.