Claire Nieschwietz Chesnutt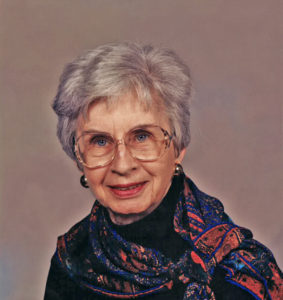 Claire Nieschwietz Chesnutt, born in Falls City on February 23, 1922, died in Houston on December 17, 2018. Her first and much-loved job was at a San Antonio radio station during the last years of World War II; when, like so many other women at that time, she was pushed out to make room for a returning soldier, she turned to elementary education. She first taught in a one-room schoolhouse and ultimately became a beloved fourth-grade teacher to hundreds of children in Poth and Kenedy. She met her future husband, John Wood Chesnutt, at coffee after Mass one Sunday in Kenedy. He died prematurely in 1963, leaving her with five children aged six months to 12, and one of her great achievements was to raise them on little more than a schoolteacher's salary. After she retired, she moved to Kerrville, where she quickly developed a wide circle of friends despite having known no one when she arrived. She later moved to Rockport and then Houston in the aftermath of Hurricane Harvey. Her daughter Mary Claire Luce died in 2014. She is survived by her children Jane Chesnutt (W. Mallory Rintoul), John Clark Chesnutt (Linda Chesnutt), Rachel Blasdell (Larry Blasdell) and Julia Dutton (Steve Dutton), her grandchildren Michael, Sara and Emily Blasdell, Jeffrey and Richard Herring and Ashley and Nicholas Dutton, seven great-grandchildren, her last surviving sibling, Elaine Warnken, and about two dozen nieces and nephews. We thought she'd make it to at least 100…she didn't quite get there, but well done in every way, Mom!
A visitation will be held from 4 – 6 p.m. on Thursday, December 20 at Eckol's Funeral Home, 420 West Liveoak St., Kenedy, Texas. The Funeral Mass will be at 2 p.m. on Friday, December 21 at Holy Trinity Catholic Church in Falls City, Texas followed by interment in the Falls City Cemetery.