Robert Lee Busselman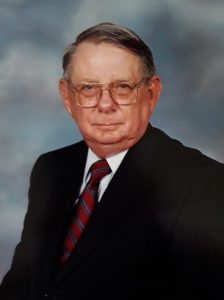 Robert Lee Busselman, 84 of Karnes City, Texas died Saturday, November 24, 2018 at Eden Hills Community in New Braunfels, Texas.
Robert was born September 18, 1934 to Otto Robert and Thekla Fenner Busselman in Lenz, Texas.  He grew up in Karnes City, Texas and graduated from Karnes City High School at the age of 16.  Following high school, he delivered newspapers, worked for Hubbard's Grocery Store, and for International Harvester.  In August of 1953, he joined the Army and left for Fort Bliss Army Base, in El Paso, Texas.  Before leaving for Germany, he married Betty Jane Coldewey at St. Paul's Lutheran Church on June 20, 1954.  He sailed to Kaiserslautern, Germany where he was a radar operator and served the remaining of his enlistment returning home in June of 1955.  Following his service in the army, he farmed, worked for International Harvester, Coke a Cola Bottling Company, Purina Feed Co. and as a welder for Elliott Gross in Kenedy, TX.
During the drought years, it became difficult to maintain a living as a farmer/rancher, so he attended Department of Public Safety School in Austin, Texas. Then he moved his family to San Antonio in February of 1960 where he was a DPS Patrolman.  After working as a Driver's License Patrolman for 4 years, he worked for the Atomic Energy Commission as an electronics technician performing tests and making repairs on atomic bombs and other munitions at Medina Base. Working from 8a.m. – 5p.m. was boring during those years, and being anxious to fill his extra time, he began taking college courses.   After completing an Associate of Science Degree from San Antonio College in January of 1965, he moved his family to Houston,  began attending the University of Houston and subsequently entered Bates College of Law.  While attending school part time and working full time at NASA as an electronic technician on  the Gemini trainer for the astronauts, he had the opportunity to meet and work with famous astronauts such as Neil Armstrong, Buzz Aldrin, Ed White and many others.  Following his work on the Gemini trainer, he worked for EAI at NASA as a computer technician.  Graduating with a Doctor of Jurisprudence Degree from the University of Houston and passing the bar exam in 1970, he practiced law for one year in Houston before moving his family back home to Karnes City opening his private law office in Kenedy, Texas in 1971.  He practiced law for a total of 47 years which included a partnership with Scarborough, Roberts,  Busselman, & Berry.  During those years, he served as city attorney for Falls City, Runge and Kenedy as well as a director of First Nichols National Bank.  He was appointed County Attorney of Karnes County on December 1, 1999 and served 3 consecutive terms, a total of 13 years.  Serving as president of the Rotary Club and Kenedy Chamber of Commerce as well as judge advocate for the Kenedy VFW were some of the organizations in which he participated.
As an active member of King of Glory Lutheran Church in Houston, King of Kings Lutheran Church in Houston , and St. Paul's Lutheran Church in Karnes City, he taught Sunday School and served on church council.
Robert enjoyed visiting and talking with people anywhere anytime. Completing his years as County Attorney, he continued to practice law until his retirement. Early mornings you would find him at the City Pharmacy or Becky's visiting with friends while enjoying a cup of coffee or breakfast.  The retired men who gather early mornings proudly named their group, "The Romeo Club" (Retired Old Men Eating Out).
Robert Lee Busselman is survived by his wife of 64 years, Betty Jane Coldewey Busselman of Karnes City; daughters: Debbie Kay Busselman Witte (Mark) of Karnes City, Brenda Gay Busselman Gregory (Russell) of Pflugerville; sons: Bobby Ray Busselman (Diane) of Rowlett, Kevin Jay Busselman (Janice) of Hallettsville and 8 grandchildren: Kristin Witte Hubbard (Trey)  of San Marcos, Erin Witte Fudge (Justin) of Karnes City, Dustin Cole Witte (Jackie) of Karnes City , Amber Gregory Shand (David) of Wimberley, Chase Colby Gregory of Pflugerville, Justin Jay Busselman (Alexis) of Inez, Megan Elizabeth Busselman of College Station , and Sarah  Nicole Busselman of College Station; 11 Great Grandchildren:  Baleigh Fudge, Broden Fudge, Kilyn Hubbard, Karsyn Hubbard, Lucas Witte, Ryan Gregory, Rylee Gregory, Brody Shand, Bostyn Shand, Kenedy Busselman and Ryder Busselman; three nephews: Dwayne, Robbie and Chris Busselman  and one niece Kim Busselman  Hadley.
Robert was preceded in death by his parents, Otto and Thekla Busselman; brother, Billy Joe Busselman, sister, Ira Lee Busselman;  and great grandson, Tysen Russell Shand.
Visitation will be at Eckols Funeral Home in Kenedy, TX from 4:00-7:00p.m. on Dec. 7, 2018
Funeral Services will be at St. Paul's Lutheran Church in Karnes City, TX at 10:30a.m. on Dec. 8, 2018
Inurnment will follow in the Karnes City Cemetery, Karnes City, TX.
In lieu of flowers, memorials may be made to:
-Alzheimer's Association online at www.alz.org
-Karnes County Sheriff's Department
500 E. Wall Street
Karnes City, Texas 78118
-St. Paul's Lutheran Church
408 S. Davidson
Karnes City, TX 78118
-South Texas Children's Home
P.O. Box 1210
Beeville, Texas 78104-1210
-Charity of Choice
On any donations, please note dad's name in care of P.O. Box 461, Karnes City, TX 78118 so we can acknowledge your donation.