Rose Marie Villarreal Gomez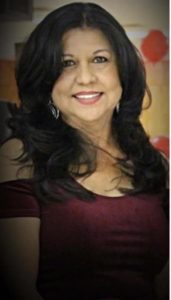 Rose Marie Villarreal Gomez, Age 60 of Kenedy, TX passed away Sunday, September 9, 2018 at home surrounded by her loving family. Rose was born on March 31, 1958 in Karnes City, TX to Seferino P. and Eleanor Hernandez Villarreal. In October of 1984 she married Jon Gomez in Three Rivers, TX.  Rose was a Rural Mail Carrier for the United States Postal Service; a loving Wife, Mother, Grandmother, Aunt and Friend to many.
She is preceded in death by her father, Seferino P. Villarreal and a daughter Deidra Marie Gomez.
She is survived by her husband John Gomez of Kenedy, mother, Eleanor Hernandez Villarreal of Kenedy, daughter, Jayme Ochoa Martinez of Kenedy; sons, Steve Ochoa of San Antonio, Jon Erik Ochoa of Kenedy; grandchildren, Andre Martinez of Kenedy, Gabrielle Martinez of Kenedy; sisters, Velma Garza of Kenedy, Hilaria Cano of Kenedy, Norma Longoria of San Antonio, Rebecca Villarreal of Kenedy, Diana McGowan of San Antonio, Rachel Asevedo of Floresville; brothers, Seferino Villarreal, III of Kenedy, Robert Villarreal of Floresville, Can Villarreal of Austin and a host of nieces, nephews and friends.
A Prayer Service will be held Wednesday, September 12, 2018 at 7:00 P.M. in the Eckols Funeral Home Chapel with the Chaplin Lydia Luna officiating. A private inurnment will take place in the Our Lady of Guadalupe Cemetery in Pawnee, TX at a later date.