Ray Morgan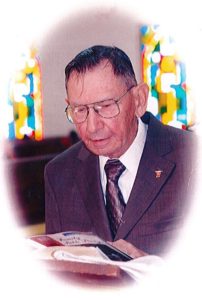 Claude Ray Morgan, 89 of Choate, Texas was called home to his mansion not built by human hands Tuesday, September 18, 2018.
Ray was born Oct. 10, 1928, to Neal and Bertha (Baker) Morgan in Choate, Texas. He was a 1946 Graduate of Kenedy High School. He enjoyed his work on the farm until he proudly answered the call to serve his country.  He served in the 40th Division, 224th Regiment Charlie Company during the Korean War.  He married Joyce Drapalla on December 14th, 1952.  He continued to work on the farm until the drought of the 1950's forced him to seek seek employment in town.  He was employed by Donaho Refining Company in Pettus until 1963 and then worked for Kaufmann Motor Company as Parts Manager for over 30 years.  Ray served on the Hondo Creek Water Shed Board and on the Pettus School Board, but is he is most remembered for his service in Choate Baptist Church.  He loved the Lord and missions.
He was preceded in death by his parents' brother, Clyde Morgan; sisters; Lucy Bell Ryan, Gladys M. Wilson; and beloved wife Joyce Morgan.
Survivors include his son David (Kathy) Morgan, Gary (Nan) Morgan; 4 grandchildren, Jonathan, Amanda, Thomas, and Will; a niece Nancy Ellen Wilson and numerous cousins and family.
Visitation will be held at Eckols Funeral Home Chapel Friday, September 21, 2018 from 6PM to 8PM. Funeral Services will be Saturday, September 22, 2018 at 10AM in the Eckols Funeral Home Chapel with the Rev. Aaron Corporon and Rev. Jay Fleming officiating.  Graveside Services and Interment will follow in the Choate Cemetery, Choate, TX.
Pallbearers will be Will Morgan, Charlie Morgan, Chaco De Los Santos, Chris Johnson, Philip Bush, and Jonathan Morgan.
Honorary Pallbearers are Thomas Morgan, Duane Nutt, J.E. Baker and Butch Weatherly.
In Lieu of flowers the family requests that memorials be made to the Choate Cemetery Trust Fund or NADA(Neighbors Against Destroying Aquifers) in memory of Ray Morgan.