Tony M. Toledo, MD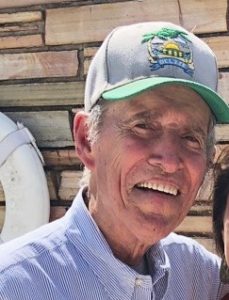 Tony M. Toledo MD, a San Antonio resident for 53 years passed on May 16, 2018. He was born on September 21, 1939 to Polly Reid Toledo and Anthony Arnau Toledo in Miami, Florida. He is preceded in death by his parents and young son Clark Anthony Toledo.
Tony graduated from Miami High School where he was a member of the National Honor Society, a member of the choir, a champion baseball and football player and was nominated to the Miami HS Football Hall of Fame. He received an undergraduate degree from Rollins College in Winter Park, Florida and then attended Medical School at Tulane University in New Orleans, La. After medical school he did a 4 year residency at Brook Army Medical Center in Internal Medicine. At the completion, he was assigned to a tour in Viet Nam at the 91st Evacuation Hospital from 1970-1971. Upon return to BAMC, he held the position of Chief of Medicine.
In 1971 Tony entered private practice in Internal Medicine and practiced for 35 years at the Nix Hospital and the Methodist Metropolitan Hospital. Tony was an avid fisherman, spending many weekends at Port Aransas either gulf fishing in his boat the "Green Water" or bay fishing. When not fishing Tony enjoyed equine events with his wife and daughters. One year, he was president of the San Antonio Saddle Horse Association.
Upon his retirement at age 66, he wanted to be a rancher, live in the country, take care of his wife's horses and raise Angus cattle. He moved to his ranch, the Double T in Panna Maria, Texas and with the help of Allan Mattke, Marvin Witte and family, Bil Homeyer and  family, Brent Porter and family, so many new neighbors, Mark Brysch and family, Alvin Pieprzyca and family, Andy Reeves and family, the members of the United Methodist Church of Karnes City and many other friends (a whole village}, he was successful in this endeavor. Tony enjoyed keeping the Double T in a beautiful and pristine condition and the ranch was greatly enjoyed by his wife, especially as a home for her horses.  All his family and many friends greatly enjoyed visiting the ranch.
Tony was a team leader in many "Walks to Emmaus" and was involved weekly in the Kairos Prison Ministry. He was an active member of the United Methodist Church of Karnes City, gave the lithurgy occasionally, occasionally was asked to stand in for Pastor Sue Huntsman to give the Sunday service, and taught Sunday Bible School for many years. Tony was on the Board of Directors for the Karnes County Healing Hearts Ministry and participated weekly in prayer at the hospital. Pastor Sue Huntsman was very special to Tony as a pastor and a dear friend.
Tony is survived by his wife Linda Cecile Lewis Toledo, daughters Katherine Rainey Starch and husband David Starch MD, from New Braunfels, and Blair Toledo Vasquez and husband Eduardo Vasquez from San Antonio, former wife, mother of Katherine and Blair, and good friend, Sandra Rainey Toledo from San Antonio, Texas. Grandchildren are Peighton Rainey Starch, Coleman David Starch, Presley Hope Starch and Vienna Katherine Vasquez. He is loved and survived by many brothers and sisters-in-law and their children: Tom and Paula Schneidner, daughter Brooke Spencer, husband Loren and their five children, all of San Antonio, Bradford Ward Lewis, wife Elizabeth and son Bryan Jeffrey Lewis of Phoenix, Ariz., Michael Duane Lewis and Linda of Tyler, Texas, Maria Christina Karlis, husband Craig  of Hopkinton Mass. , daughter Meghan Kelly and Justin of Austin, and son Michael Anthony of Washington D.C. , Kimberly Susan Lewis of Fort Worth, Texas, and long time adopted family Allen. Karen, Allison of LaVernia, Texas. Tony dearly loved his family and they so loved him in return. He impacted their life and had a special personalized influence on all.
Tony is sadly missed by his rescue dogs, Barney, Sadie, Lady, Izzie, Tiki, his rescue cats who initiated and welcomed him into the world of kitten love, his wife's horses who whinnied /spoke to him vigorously at feeding time, and his cows who always came when called.
A very special thanks to the 911 operator, the Floresville Highway Patrol, the Wilson County EMS, and especially ALL the emergency room staff at Connelly Memorial Hospital, they all tried so very, very hard.
A very special thanks to Pastor Sue Huntsman and Karen Mattke who came so quickly to the ER when called.
Instead of flowers, Tony would want donations in his memory to be made to the building fund for the United Methodist Church of Karnes City or the Karnes County Healing Hearts Ministry.
Visitation will be Sunday, May 20, 2018 from 2:00P.M. to 4:00P.M. in the Eckols Funeral Home Chapel with Funeral Services at 4:00P.M. in the Eckols Funeral Home Chapel with the Rev. Sue Huntsman officiating. Graveside Services will be held Thursday, May 24, 2018 at 9:00A.M. at Fort Sam Houston National Cemetery with US Army Honors in San Antonio, TX