Dominga Cisneros Aguirre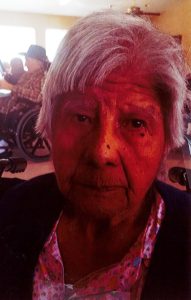 Dominga Cisneros Aguirre, Age 93 of Falls City, TX passed away January 1, 2018 in San Antonio, TX. Dominga was born on September 21, 1924 to the late Benino and Maria Cisneros.  She was a homemaker and a member of Holy Trinity Catholic Church.
She is preceded in death by her husband Macario Aguirre; parents, Benino and Maria Cisneros and a son Adolfo Aguirre.
She is survived by a cousin, Tom Cisneros, lifelong friend Dora Molina, step-granddaughter Mary Lou Jaramillo and a sister.
A Holy Rosary was recited Thursday, January 4, 2018 at 7PM in the Eckols Funeral Home Chapel. Funeral Mass was held Friday, January 5, 2018 at 11AM at Holy Trinity Catholic Church with the Rev. Gregory Sawicki officiating in Falls City, TX.  Interment followed in the Falls City Cemetery, Falls City, TX.
Pallbearers were David Cisneros, Robert Cisneros, Jesse Perez, Trini Gamez, Louie Martinez and Robert Hidalgo.