Alton L. Borgfeld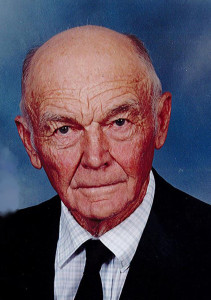 Alton L. Borgfeld, born May 3, 1924 in Weser, Texas and died October 31, 2017 in Kenedy, Texas. He was the oldest son of Henry W. and Annie Borgfeld.  He attended high school in Yorktown, Texas.  He married Erna H. Boerm on August 1, 1944 just before being deployed to Okinawa, Japan as part of World War II, serving in the United States Army from 1944 through 1946.  He returned from the war and took up the occupation of farming.  Later he worked full time for 24 ½ years at General Mills/Henkle as a processing operator.  Alton and Erna bought a farm and moved to Karnes City in 1964.  He loved farming and growing things as well as raising cattle.  He was a member at St. Paul's Lutheran church.  He is preceded in death by his parents, his sister, Janie Rangnow and his grandson, Kyle Borgfeld.  Survivors include his wife, Erna Borgfeld; son and wife, Curt and Lynette Borgfeld; three grandchildren, Caitlyn, Kelly, and Kevin Borgfeld; brother and wife, Henry and Lorna Borgfeld; and many nieces and nephews.
Family Visitation will be Friday, November 3, 2017 from 5PM to 7PM in the Eckols Funeral Home Chapel. Services will be held Saturday, November 4, 2017 at 2PM in the Eckols Funeral Home Chapel.  Interment will follow in the Nordheim Cemetery, Nordheim, TX.
Memorials can be given to the Nordheim Cemetery or to charities of your choosing.