Herbert D. Baker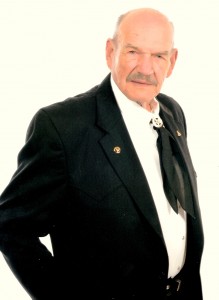 Herbert D. Baker born in 1937 in San Bernardino, California. Died May 21, 2017 at his ranch in Kenedy, Texas at the age of 80 years. Herb graduated from Pacific High School, San Bernardino, Calif. in 1955 and from USC with a bachelor's degree in 1959. He taught Navigation at UCLA and was subsequently commissioned in the Navy as an Ensign. He then went to flight training in Pensacola, Florida and for the next 8 years flew off of several different aircraft carriers including the Yorktown and the Oriskani. He attained the rank of Lt. Commander.
Herb left active duty and went into the Naval Reserve in 1967. At that time, he became a pilot for United Airlines, starting out as a flight engineer on the DC8 and culminating as a captain on a DC10. He retired at the age of 60. He was a former member of the Lion's Club, Buena Park (Calif) Reserve Police Dept., Veterans of Foreign Wars, and the San Bernardino County Mounted Sheriff's Posse.
The passions of his life were family, his ranches, horses, cattle and fish. He developed the first black lace-tailed guppy, hunted with his Vizslas (bird dogs), back-packed in the high Sierras, and went on many cruises. He had friends all over the world.
He was a 32nd degree Free-Mason at the local lodge in Kenedy, Texas. He was also an active member of the Scottish Rites in San Antonio and belonged to The Order of Eastern Star in Kenedy.
He is survived by his wife Peggy Ann (Willmott), 5 children Rebecca, Tanya Joelle, Veronica (Danny) Requejo, Jennifer Sims and Jerry (Leane) Baker. There is a total of 8 grandchildren, Mathew Birnbaum (Rochel), Taylor Laub, Minna Kraft, Zachery Requejo (Jessica), Danica Requejo, Hayden, Madison, and Baiileigh Smith, and 4 great-grandchildren. He is also survived by his sister Dorothy (Sissie) Polley-Fairchild (Chuck) and his brother John (Lynda) Baker. Two step-children, Liah and Suzanne Cossey, and step daughter, Carlyn Walters, and step-grandchildren, Jesse Walters, Anastasia and Alexzander Cossey.
Preceding him in death are his parents, Homer and Olive (Byers), his first wife Peggy Lee (Eppensteiner) and his second wife Barbara (Eakle).