Jose A. Arenal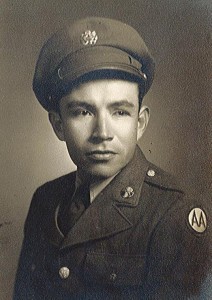 Jose A. Arenal went to be with our Lord on Monday, April 10, 2017 at the age of 98 years, one month and five days. He was born to Concepcion Arenal and Honorato Aguilar on March 5, 1919 in Laredo, Texas.  Mr. Arenal proudly served his country in WWII as Pfc Battery "C" 199th (AA) Coast Battalion in the U.S. Army, serving in the Northern Solomons, Southern Philippines from 1943 to 1946.  Mr. Arenal married Miss Olivia Guerra on August 5, 1946.  Five Children were born to this union.  He was a retired Mill Worker for General Mills/Henkel having worked there for many years.  Dad was a hardworking man who loved his family with all his heart.  As a Carpenter; he built his Home, working on many projects around the house.  As a gardener, he enjoyed making things grow.  Grandpa could be heard whistling or singing as he prepared meals, made bird houses, tended his garden or planted trees.  Mr. Arenal is preceded in death by: his parents, his wife Mrs. Olivia Arenal, his eldest son Armando Arenal, sister: Ester Rodriguez and Olga Cantu, a brother Roberto Aguilar, a granddaughter Skylee Bustemante, a grandson Robert Arenal, and three great-grandsons.  Mr. Arenal is survived by his daughter: Irma (Ismael) Rodriguez and Janie (Monnaiah) Kallumadanda, his sons: Ron Arenal and Richard (Valerie) Arenal, 13 grandchildren, 24 great-grandchildren, 9 great-great grandchildren, and a host of other relatives.  A Holy Rosary will be recited Sunday, April 16, 2017 at 7PM in the Eckols Funeral Home Chapel. Funeral procession leaves Eckols Funeral Home on Monday, April 17, 2017 at 9:30AM for the Funeral Mass at 10AM at Our Lady Queen of Peace Catholic Church.  Interment will follow at Sacred Heart Cemetery, Kenedy, TX.
Serving as Pallbearers will be Michael Garza, Arnulfo Garza, Omar Rodriguez, Israel Rodriguez, Joe Arenal, and Aaron Martinez.
Honorary Pallbearers are all his grandchildren, great-grandchildren, and great-great grandchildren.