Minneola Voges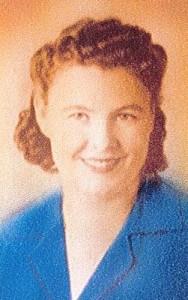 Minneola Voges age 95 passed away in College Station July 17, 2016. She was born August 20, 1920 to Howard & Pearl Furr Sammons.  Minneola first husband Bruce Melton passed away May 3, 1949, and she married Henry Wardon Voges and he preceded her in death June 9, 2000.  She was a member of Peace Lutheran Church.
She is preceded in death by her parents Howard &Pearl Furr Sammons; husbands, Bruce Melton and Howard Voges; 3 sisters and 1 brother.
She is survived by her daughters Faye (Joe) Hartfiel, Deana Voges (Mario Munzon) both of College Station, TX; Sons, Bob (Leona) Melton of Cleveland, TX and Wayne (Barbara) Melton of TN; Sister, Betty Jean Brown of Kenedy, TX ; two nieces Joycie Welkner & Wilma Brabec; 9 Grandchildren; 16 great grandchildren; 1 great-great grandchild.
Funeral services will be Saturday, July 23, 2016 at 2:00 PM from the Eckols Funeral Home Chapel and interment will follow in the Kenedy Cemetery.
Serving as pallbearers were David Buxkemper, Michael Grillo, Jacob Grillo, Joel Mathai, Jr. Samuel Davis, Gharette Scott Melton-James, Alexandra Mathai and Brandon Welkner.