Roger A. Overby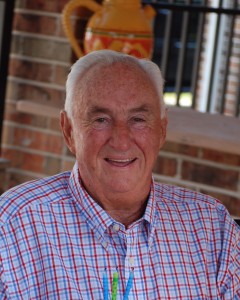 Roger Allen Overby, 80, of Kenedy, Texas passed away on January 2, 2016 after a month long illness. He was born on August 23rd, 1935 in Pawnee, Texas.  He is preceded in death by his parents Ernest "Butch" and Alma Overby.  He married Farris Schmidt on December 22, 1962 in Somerset, Texas, recently celebrating 53 years of marriage.
Roger graduated from Pawnee High School and received his undergraduate degree and his Master's degree from Southwest Texas State University. He began his career in education in coaching however soon became an administrator of Special Education for nine school districts, a position he held until his retirement in 2000.
Roger was a member of the Pawnee United Methodist Church. He was past president of Kenedy Little League.  He was a board member of TexStar Federal Credit Union.   Past member of Kenedy Jaycees.
He is survived by his wife Farris Overby; his son Kerwin Overby and his wife, Anne, of Kerrville, Texas; his twin sons, Landon Overby and his wife, Lisa, and Diron Overby and his wife, Kimberly, all of Cypress, Texas; his grandchildren Kaitlyn of Houston, Zachary at UT, Madeline at Ole Miss, Sidney, Dylan, Drew, Megan and Ashlyn all of Cypress; his brother Keith of Corpus Christi; and his four nieces.
A family visitation will be held at Eckols Funeral Home in Kenedy on Tuesday, January 5th from 5 p.m. to 7 p.m.  Funeral services will be held at 11:00 a.m. on Wednesday, January 6th at the First Baptist Church in Kenedy with visitation luncheon and graveside services to follow.  In lieu of flowers, the family asks that memorials be made to the Pawnee United Methodist Church PO Box 526 Pawnee, TX 78145 or the George W Dumont Scholarship Fund (non 501 (c)3) 103 Bluebonnet Dr  Kenedy, TX 78119.