Carlos Basaldu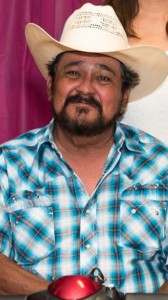 Carlos Basaldu, Age 58 raised in Kenedy, TX passed away Jan. 3, 2016 in San Antonio, TX. Carlos was born on October 23, 1957 in Galveston, TX to Rosendo Basaldu, Sr. and Yolanda Rodriguez. He was a loving father, son, brother, uncle and of the Catholic Faith.
He is survived by his mother, Yolanda Rodriguez; sons, Carlos Gonzales, Jesse James Perez, Michael Basaldu, Carlos Basaldu, Christopher Basaldu; sisters, Yolanda Krueger, Lucinda DeLaPaz, Dora Ann Esparza, Yolanda Allen, Isabel Basaldu-Prado, Maria Basaldu; brothers, Rosendo Basaldu, Jr., Andres Garcia, Jr., Victor Garcia, Enriquez Basaldu and 11 Grandchildren.
He is preceded in death by his step-father Andres Garcia, Sr. and father Rosendo Basaldu, Sr.
Visitation will be held Thursday, January 7, 2016 from 6PM to 8PM with A Rosary will being recited at 7PM in the Eckols Funeral Home Chapel. Funeral Mass will be Friday, January 8, 2016 at 10AM at Our Lady Queen of Peace Catholic Church with the Rev. Norbert Hermann officiating. Interment will follow in the Sacred Heart Cemetery.