Elizabeth Ann Fransen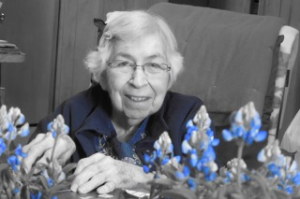 Elizabeth Ann Fransen, age 80, of Kenedy, TX went to be with her Lord and Savior, Jesus Christ, on Monday, December 14, 2015. Ann was born on June 7, 1935 in Three Rivers, TX to the late Edwin W. and Varina Davis Roan Richter.  She was married to her loving husband of 61 years, Eric Edwin Fransen.  She was a homemaker and a member of Good Shepherd Lutheran Church.
Ann was preceded in death by her parents Edwin and Varina Richter.
She is survived by her husband Eric Edwin Fransen, Sr. of Kenedy; daughters, Wanda Brown and husband Charlie of Kenedy, Brenda Taylor and husband Rick of Kenedy; sons, Eric Fransen and wife Fran of Kenedy, Robby Fransen and wife Rachel of Selma, CA, Kirby Fransen and wife Pam of Seguin; sister, Carolyn Young of Texarkana; brothers, Bob Richter and wife Joy of Forney, Jess Richter of Harrison, AR; grandchildren, Philip Brown, Travis Brown, Katelyn Hopson, Robin Fransen-Serio, Eric Fransen, III, Rebecca Fransen, Cody Fransen, Alex Fransen, Boyd Fransen, Dale Fransen, Elizabeth Fransen, Hanna Fransen, Bradley Fransen, Matthew Fransen, Kimberly Fransen; great-grandchildren, Joseph Brown, Ryder Brown, Emma Brown, and Maddie Brown.
Ann grew up loving animals, especially horses. She milked cows on her parents' dairy farm and graduated as Valedictorian of the Pawnee class of 1953.
Ann and Eric met at Elim Lutheran Church when she was five and he was eleven. Eric liked her braided pigtails. Their first date was a motorcycle ride to get ice cream. They married in Kenedy on June 28, 1954.
The newlyweds purchased a farm west of Kenedy, where they lived until 1968. At that time, they moved to their present home.
Ann was a devoted mother to her five children. She went above and beyond to provide her family a loving, Christian home. She and Eric grew their own fruit and vegetables and raised their own meat. She also kept chickens and milked a cow for many years in order to provide her growing family with the best nutrition possible. Her home-cooked meals and desserts were legendary.
Upon her father's death, Ann and Eric opened their home to her mother Varina. Ann continued to care for her mother for the next twenty years.
With all her children grown and married, Ann pursued her life-long passions. She created and maintained flower gardens that rivaled those of professional landscapers. She bought the Arabian horse she had always wanted. She developed her painting skills and received many awards for her beautiful oil and acrylic works.
Ann was a born-again Christian and a prayer warrior. She taught Sunday School and prepared multitudes of special dishes and baked goods for church ministries and events. She wrote weekly news articles for her church and many original hymns and poems. Ann had been baptized as a baby, but at the age of 60, she chose to publicly profess her faith through adult baptism.
Ann's fifteen grandchildren and four great-grandchildren were her pride and joy. She always encouraged them to develop their talents and put their trust in Jesus.
Visitation will be held Saturday, December 19, 2015 from 4PM to 6PM in the Eckols Funeral Home Chapel, with a prayer service at 5PM. The funeral service will be held Sunday, December 20, 2015 at 2PM in the Eckols Funeral Home Chapel. Interment will follow in the Karnes County Memorial Park Cemetery in Kenedy, TX.