Ruben Paul Oehlke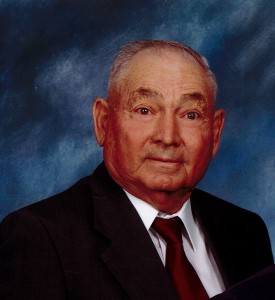 Ruben Paul Oehlke, 84 of Kenedy, TX passed away Monday, July 13, 2015 at his home in Kenedy.  He was born on May 14, 1931 in Goliad County, TX to the late Gus and Ella Goehring Oehlke.  He married Vernell Joyce Volkmer on December 30, 1955 in Schroeder, TX.  He held various positions while working for United Gas Pipeline Co. before retiring after 39 years of service. After retiring he enjoyed his days working on his ranch and tending to his cattle.
In addition to his parents, he is preceded in death by his brother, Darwin Oehlke, sister-in-law, Laverda Oehlke and brother-in-law, William Volkmer.
He is survived by his loving wife of 59 years, Vernell Oehlke; daughters, Glenda Arnold (Jeffrey) of Sugar Land, Shirley Bleidt (Barry) of Tamarac, Florida and son, Vernon Oehlke (Tammy) of La Grange; grandchildren, Brooke Oehlke (Chris Pochron), Ryan Ermis (Sarah), Cody Arnold, Justin Oehlke (Amber), Courtney Arnold, Jackie Gilley (Tommy) and Brittany Bleidt; great-granddaughters Emma Bleidt and Carlie Pochron; brothers, Alton Oehlke (Sarah), Gaylon Oehlke (Kathy) and a sister-in-law Barbara Volkmer.
Pallbearers will be Ryan Ermis, Cody Arnold, Justin Oehlke, Chris Pochron, Tommy Gilley, Harlan Oehlke, Stanley Oehlke, Brandon Oehlke and Brad Volkmer.
The family would like to extend their thanks to Oscar Briones, Comfort Keepers, Accolade Hospice and special friend and honorary pallbearer, Dr. Larry Riedel.
Family Visitation will be held Thursday, July 16, 2015 from 6:00 PM to 8:00 PM in the Eckols Funeral Home Chapel in Kenedy, TX.  Services will be Friday, July 17, 2015 at 10:00 AM in the Eckols Funeral Home Chapel with the Rev. Randy Bruno officiating.  Interment will follow in the Kenedy Cemetery.
Memorials may be made to St. Paul's Lutheran Church in Runge, the American Heart Association or the American Kidney Foundation.