Dorothy Atkinson Kolinek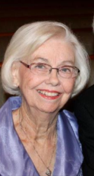 Dorothy Atkinson Kolinek went to be with her Lord and Savior June 28,2015.
She was born April 2, 1927, to W. H. And Leta Youngblood Atkinson in Kenedy, Texas. She
graduated from her beloved Baylor University in 1947, and married the love of her life, H. J.
Kolinek, Jr. September 6, 1947.
Dorothy was a loyal and faithful member of the First Baptist Church where she taught Sunday
school for over 30 years and sang in the choir. Her passions included spending time with family
and friends and attending church. In addition she was an excellent seamstress and a member of the progressive study club.
She was preceded in death by her parents, and is survived by her loving family including her
husband, H. J., daughter Marsha Duniven and son-in-law Dennis, granddaughter Crista Kuhn andher husband Ben and granddaughter Cara Duniven.
At the family's request in lieu of flowers, donations may be made to the Dorothy Atkinson and
Marsha Kolinek Duniven Endowed Scholarship Fund of Baylor University, One Bear Place
#97026 Waco, Texas 76798-7026 or to the "Renovation Fund" of First Baptist Church, 209 E.
School St, Kenedy, Texas 78119 or Donor's Choice.
Family Visitation will be held June 30, 2015 from 6:00 P.M. to 8:00 P.M. in the Eckols Funeral Home Chapel. Funeral Services will be held July 1, 2015 at 2:00 P.M. in the Eckols Funeral Home Chapel with the Rev. Matt Singleton and Rev. Tim Williams officiating. Interment will follow in the Kenedy Cemetery.
Serving as Pallbearers will be Kerwin Kolinek, Ron Hyde, Jim Fox, Tobe Ricks, Billy Morris, and Richard Robinson.