Don Franklin
 John Donald Franklin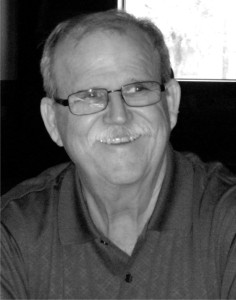 John D "Don" Franklin was born in San Antonio, Texas on March 26, 1948 and was called home on Dec. 31, 2014 at the age of 66.  Don grew up in Kenedy, Texas and graduated from Kenedy High School in 1966, and then attended Texas A & M University for a short while, but still called himself an Aggie.  He attended Texas A & I University for two years and, as he said, "finally graduated" from Sul Ross University on December 14, 2013 at the age of 65.
Don married his high school sweetheart, Becky Lynn Bates, on August 8, 1970.  Becky and Don moved to Katy, Texas in 1982.  Don was a devoted husband, father and grandfather.  He was a member and deacon at Kingsland Baptist Church in Katy.
Don was an avid fan of his family.  He loved to watch his sons' athletic events and attended countless banquets and awards ceremonies. This tradition continued with his grandchildren as he rarely missed a game, ceremony or event.  Cheering his family on and celebrating their accomplishments was his passion and he will continue to watch over them from his new home.
The outdoors and hunting are a family tradition that Don embodied.  He dearly loved the outdoors and hunting with his sons and grandchildren.  Whether it was hunting on the Huajuco Ranch with his sons, hunting muleys in West Texas with his grand-daughter, or hunting whitetail in South Texas with his grand-son, Don fostered a spirit of faith, family, conservation and the outdoors.  He often said "I never feel closer to God than when I am enjoying the outdoors."
Don is survived by his wife Becky, his father and mother-in-law Marshall and Helen Bates, his oldest son Michael and spouse Carol, their children Mollie and Braden, his younger son John and spouse Sarah, their daughter Avery, his older brother Richard H. Franklin of Amarillo, his younger sister D'Anne and her husband John Conrad of League City along with their children and grandchildren, and his sister-in-law Tonja Franklin of Washougal, Washington and cousins.
A graveside service will  be held at the  Kenedy Cemetery   in Kenedy, Texas on Saturday,  January 3, 2015, at 12:30 PM under the direction of Eckols Funeral Home, 402 West Live Oak Street, Kenedy, Texas, 78119 – Phone 830-583-2533.
A memorial service will be held at Kingsland Baptist Church in Katy, Texas on Monday, January 5th, 2015  at 4 PM.
In lieu of flowers, donations may be made to MD Anderson Cancer Center (gifts.mdanderson.org).  Notes of sympathy may be sent to the family at 23038 Vallingby Drive Katy, Tx. 77450.